Robert's Review: I am very proud of the job Cheryl did on her uke, she struggled a bit but it is a thing of beauty and we met lots of nice people, and next time you see Cheryl – ask her to sing the new version of Mr. Sandman for you.
_____________________________________________________________________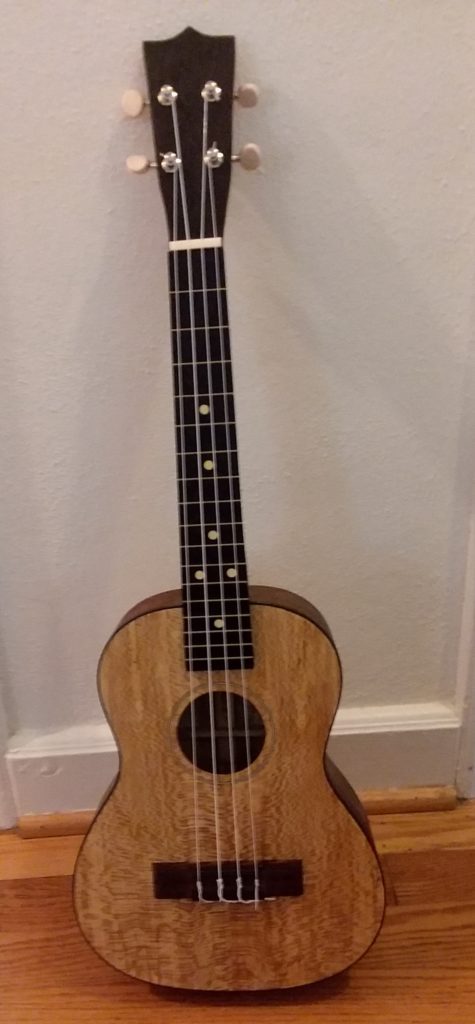 At 8:30 on Tuesday night I had a chisel in my hand, carving glue off the delicate curve of the binding. I fumbled a few times, chisel gouging the soft wood beside it and then sliding off altogether. I rested, exhausted from three days of this intensely focused work. I had never built a ukulele before. I had never used a chisel or a saw. The only tool with which I had any familiarity was sandpaper. I had recently learned that it comes in grades, though just which ones worked best in which instances was a mystery yet to be solved.
Several months prior to resting at my workbench in the woodworking shop, my husband handed me a slick catalog of classes on schedule for the John C. Campbell Folk School in Brasstown, NC. I gave him a quizzical look and asked why I was being handed this hefty mag. He was signing up for a pole-lathe class, turning bowls on a foot-powered lathe. He'd be happy to sign me up for the ukulele class that was also scheduled for that week, or I could choose some other class during that same time frame. The uke class was, it turns out, for building one, not playing one. I desperately searched the week's offerings for some class in weaving or writing or fermentation. No such luck. Oh shit, really? I'm going to make a ukulele. I became attached to the idea, ignorance being bliss.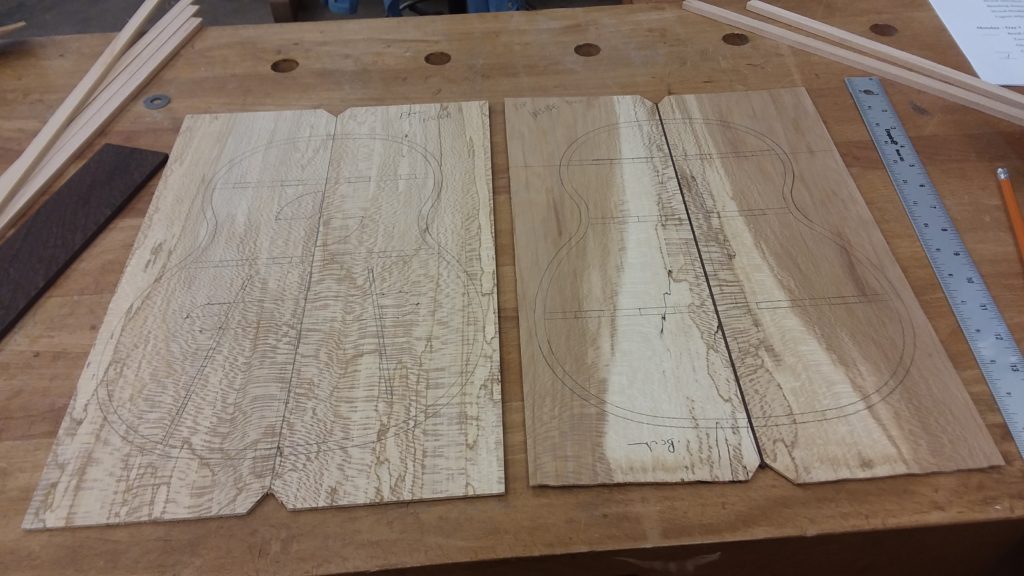 On a Sunday evening in June, we were given several pieces of wood that would be the raw materials with which we would fashion a ukulele.  Not a cheap, crappy one, but a nice, professionally-built masterpiece of an instrument.  I was dubious even though the instructor's credentials were impeccable.  My woodworking skills were somewhere around the kindergarten level.  Talk of a bladder sander just made me want to go to the bathroom.  I didn't want to take a bathroom break; afraid I would miss something important.  That's how intense this building a ukulele scheme seemed to my uninitiated mind.  I'd never even worked a clamp—who knew there were so many kinds!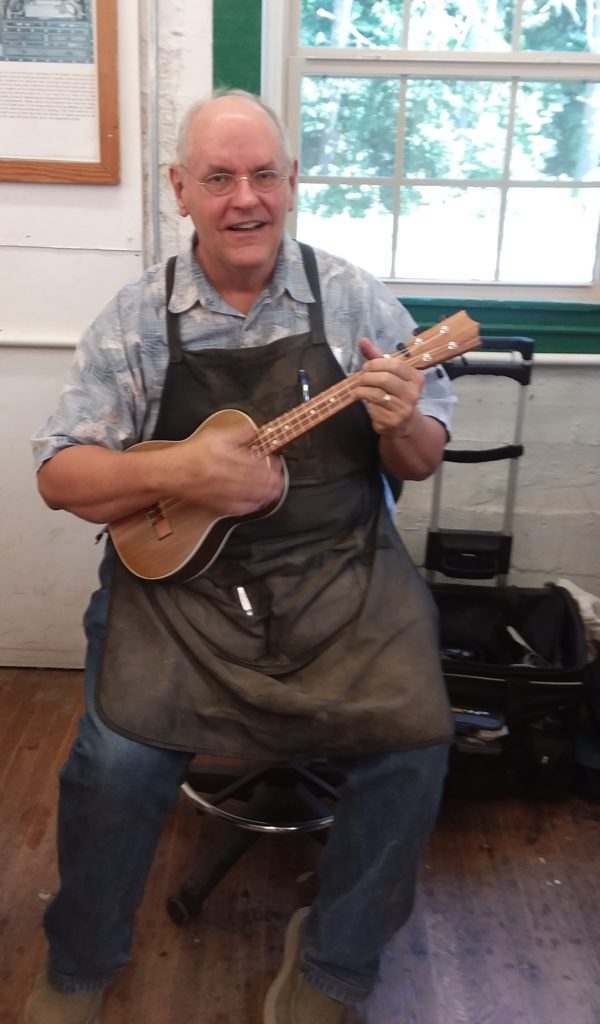 My class of ten were four women and six men. Most of us played the ukulele. I wondered if I would ever play the one splayed before me in pieces of various woods. A big mistake on a saw or drill would have relegated these raw materials to the junk heap. I decided that I was here for the process, not the product, a decision which freed me to jump right in and start hacking up wood and gluing with abandon, checking with my fellow classmates to see if I was doing it right and whimpering (just a bit) when I wasn't too sure.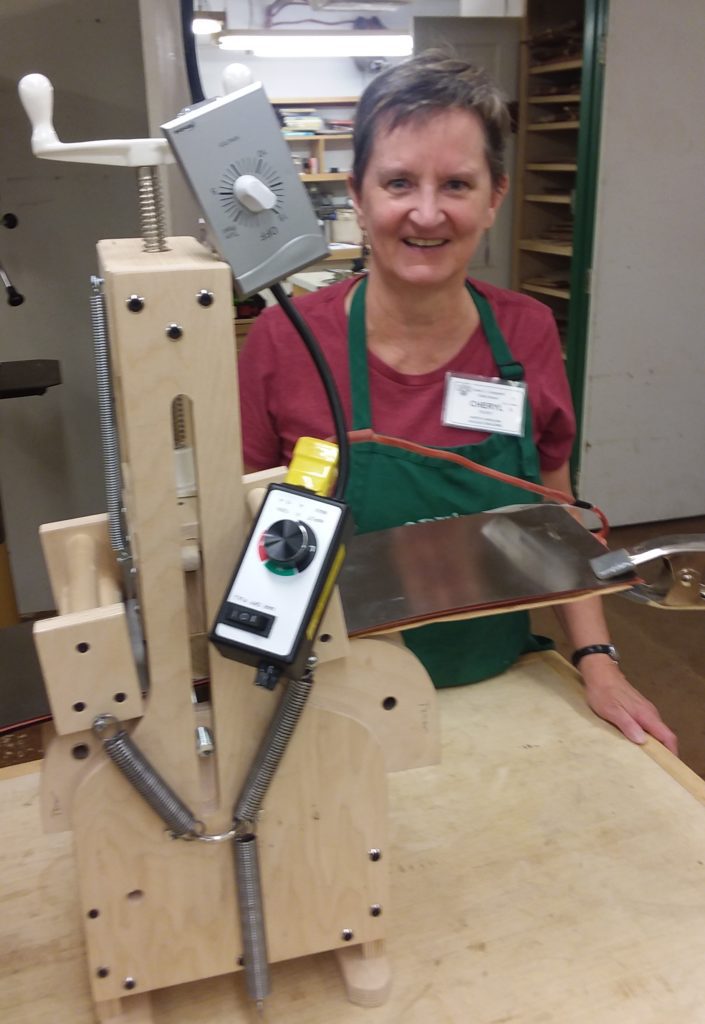 The initial process, after types of wood were selected for front, back and sides, was to bend the sides into a ukulele-like shape on a press. Laughing at my unease with wood, working the side-pressing mechanism proved to be a cake-walk. It was a heating pad with a water-spraying bottle (steam), and a few human-powered doodads that moved the wood into the proper configuration. My inkle loom is more complicated. An hour later, the sides of my ukulele were a beautiful sight. I felt empowered and accomplished.
Having this initial success, I felt ready for the more complicated processes such as cutting out the front and back with a router, making notches through things with the thing that does that, shaping, gluing, cursing. Seeking clarification. Each step in the ukulele building process presented unique challenges to my underdeveloped skill set.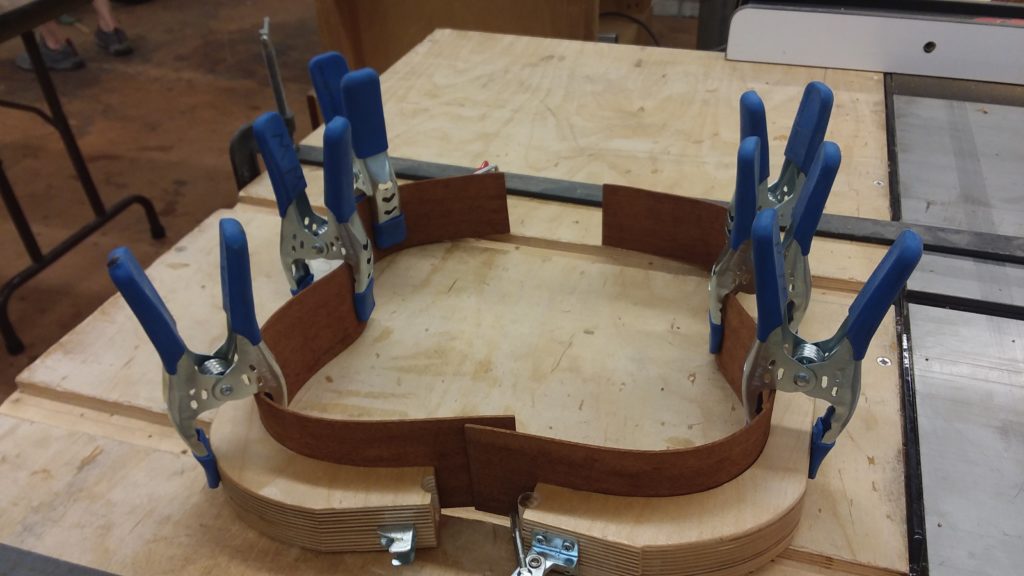 I watched and listened carefully to all the demonstrations that Allen, our instructor, demonstrated. Then immediately forgot what he said, though I had a keen ear for the "make sure you do this important thing right or you won't have a ukulele to take home" parts of his instructions. I did all the important things, but sometimes had to ask for clarification on everything that surrounded it.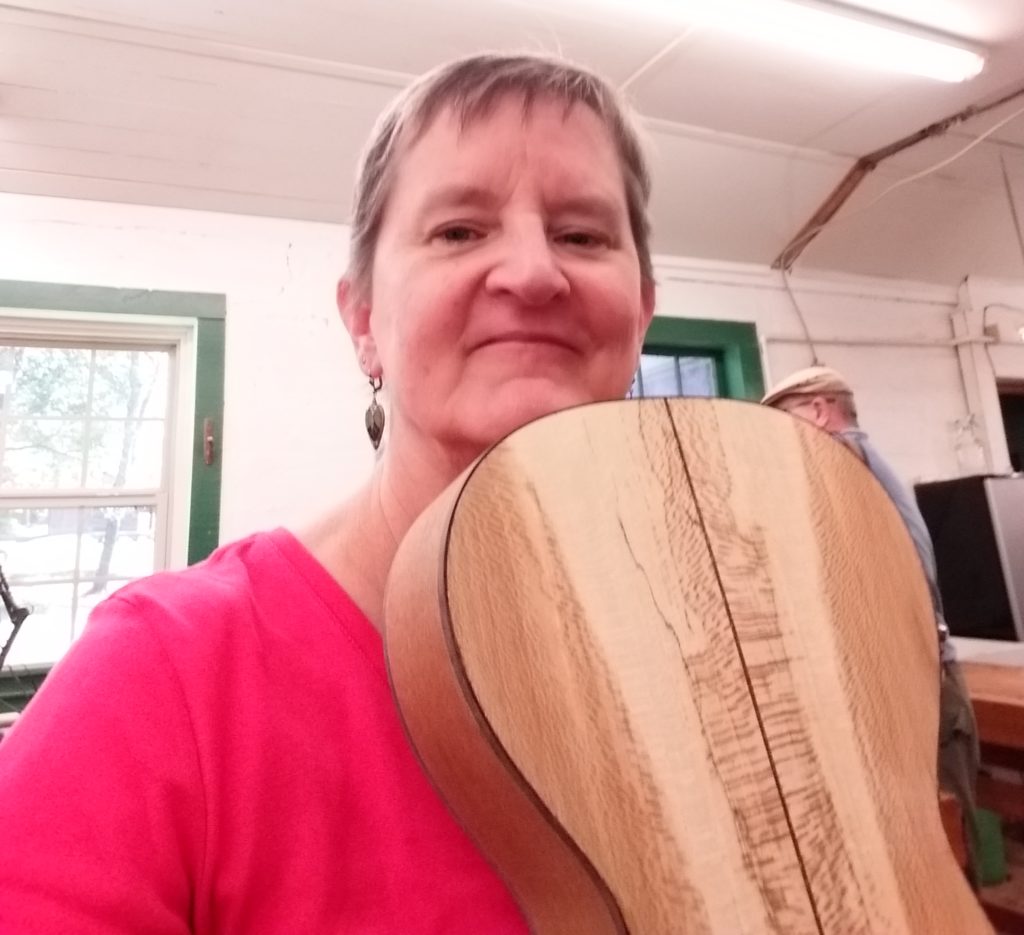 The instruction "go sand this with 320" left me stupefied as I had recently learned that there were about six different machines in the shop for the purpose of sanding things, even paper, so once again I had to seek clarification as to what mechanism was best suited for this purpose. Being told to use the hand sander was no help at all since we had not yet used it and I didn't know what it was, where it was, or why I suddenly felt the need to use the bathroom. I had to be taken by the hand and taught to use a hand sander, electrical, despite its name. It was one of the simple things for which one only needs a patient instructor and one minute of time. I had a go with it several extra times, just for fun, on the collection of wood that was starting to look like a ukulele. The 320 mystery was revealed as being the appropriate grade for the piece of round sand paper that got Velcro-ed to the round bit on the machine, which you held with your hand, by the handle. Hand sander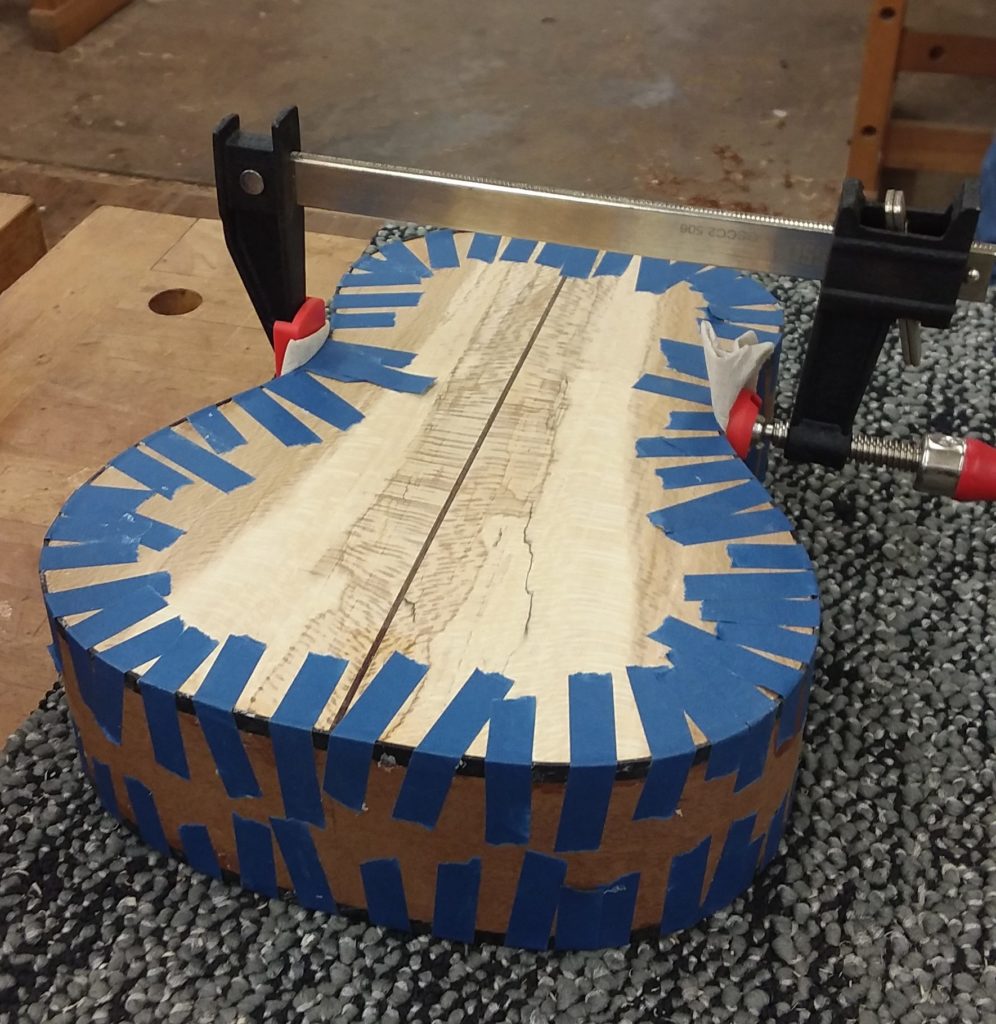 I required an extra set of hands for many of the processes. The applying of stinky glue, a procedure I had long ago mastered, in this instance required latex gloves and another set of latex-gloved hands when adhering a narrow black band around the circumference of the ukulele–twice (front and back) and fastening said circumference with strips of painter's tape. It just so happened that as I was starting to spout a litany of curse words over this operation, one of our dinner companions, David, stopped by to observe ukulele making. He volunteered to help me! With that extra set of hands, the deed was done. It was 9:30 at night.
Fatigue worked against me. We worked every night when most other Folk School students were relaxing over their private beers and glasses of wine. Most in our class stayed until midnight a few nights, trying to catch up. Two of our students were making two ukuleles. No doubt they already had the basic skills and the ability to concentrate with shortened sleep hours. By Wednesday night I felt as if every ache and pain that I ever had in my life had come roaring by to pay me a visit. Bone-weary, I crashed into bed and slept like the dead.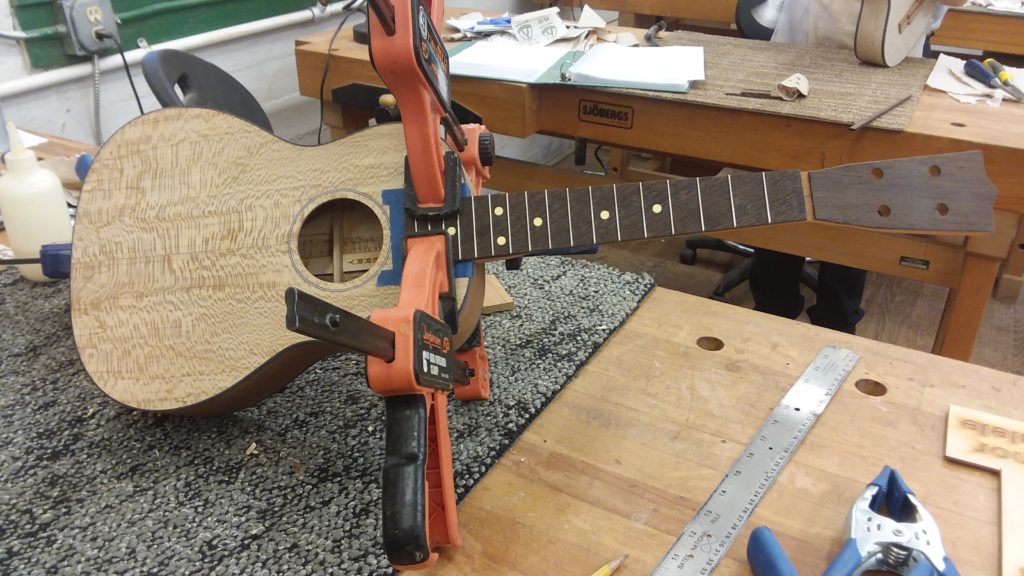 On the last day, I glued the neck of my ukulele to the body with assistance from Brian (the instructor's assistant). My need for sleep overrode my need to finish this task the night before. At this point I was pretty much done both physically and psychologically. I would not be able to finish sanding, oiling and stringing in time for the big reveal, the unveiling of all the projects which students of the Folk School had worked on over the preceding week.
My husband proudly displayed the bowls he had carved and the tools he had forged. All the displays were impressive. Hand-made brooms, sewing projects, artistic pieces, hand-dyed fabrics and (delightfully) some yummy snacks. People even sang songs, the products of their learning! I settled my ukulele on the table with the finished products.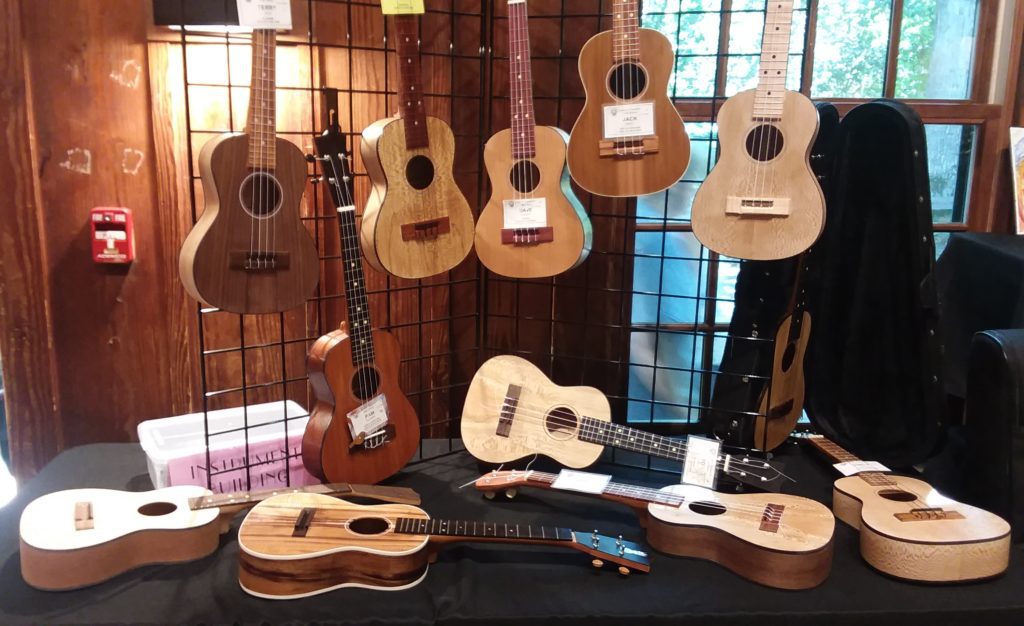 I was a bit disappointed at not having put on the last touches which gave all the other ukuleles their showroom quality.
I was content though. I had tried something difficult and accomplished creating a working instrument and a great deal of sawdust (love that hand sander). I had my woodworking husband to assist me with final sanding (which sander?) and applying the appropriate finishing products. I could then string that masterpiece, play it and show off my name inside to anyone who cared to see and hear. I made it myself and my woodworking skills have graduated to …Still requires close supervision in a woodworking shop.
Work hard, play well ,
Cheryl
I met Guest Editor Robert at a bar many years ago. We have been hanging out together quite a bit since then. He is able to take raw materials and turn them into works of art, producing a lot of sawdust in the process.