Miss Mudpie's Review: Lucky for all her followers, our intrepid blogger does not let the bear prints, which are pressed into the dirt beneath her hiking boots, detour her in any way from venturing down an unexplored trail to enjoy all that her new home state has to offer…and…keeping us thoroughly entertained all along the way.
_____________________________________________________________________
Ten feet down the trail from the trail head, my guide squatted and, pointing at the mucky trail at our feet, stated, "That's a bear track." My heart beat a bit faster. He stood, turned and continued to hike along the trail. I stayed next to that imprint in the mud and shouted at his back, "It could be a very large dog!" He chuckled at this hopeful contestation. This was an indication that the guide, my husband, was messing with me. This was our first mountain hike since winter decided to take its own hike out of the western North Carolina mountains near our home.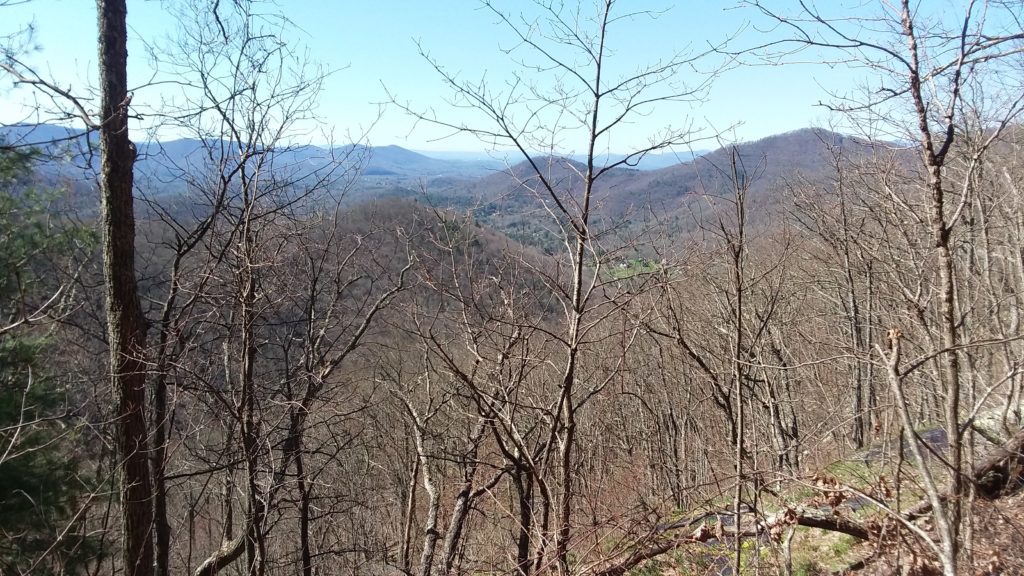 Like most hikes in these parts, this one starts uphill. The trail is a gentle slope though, and trip hazards (roots and rocks) are at a minimum. All hikes get registered on my Official List of Trails from easy peasy to I'm never going to make it (I usually do, but long after anyone else hiking with me has finished). Lungs and legs. That's the criteria. Uphill works the lungs and legs, downhill just works the legs, knees to be pain-oriented specific. How far do I have to go and how much is it going to hurt my knees? The beauty of the surroundings (why is this last?) is also noted on the Official List. Will there be waterfalls? Unusual rock formations? Spring flowers? Access to the best attractions does not always require great suffering (on my part) but they are often worth an extra effort.
My guide's preliminary research on this untried (by me) trail lead to the conclusion of, "You can do it!" Which might mean I would thoroughly enjoy it or I might call him lots of rude names, or I might enjoy it despite calling him lots of rude names. The true test is in the hiking. I had faithfully slapped some athletic tape to my knees as per Wesley Snipes (the name I call him in my head), the physical therapist in charge of keeping the shitty knees of a former runner functioning reasonably well despite sometimes being pushed to hike steep mountain trails or perform age-inappropriate dance moves. The fear of injury quelled, I could then concentrate on the fear of large predators thanks to my faithful, if somewhat knavish guide.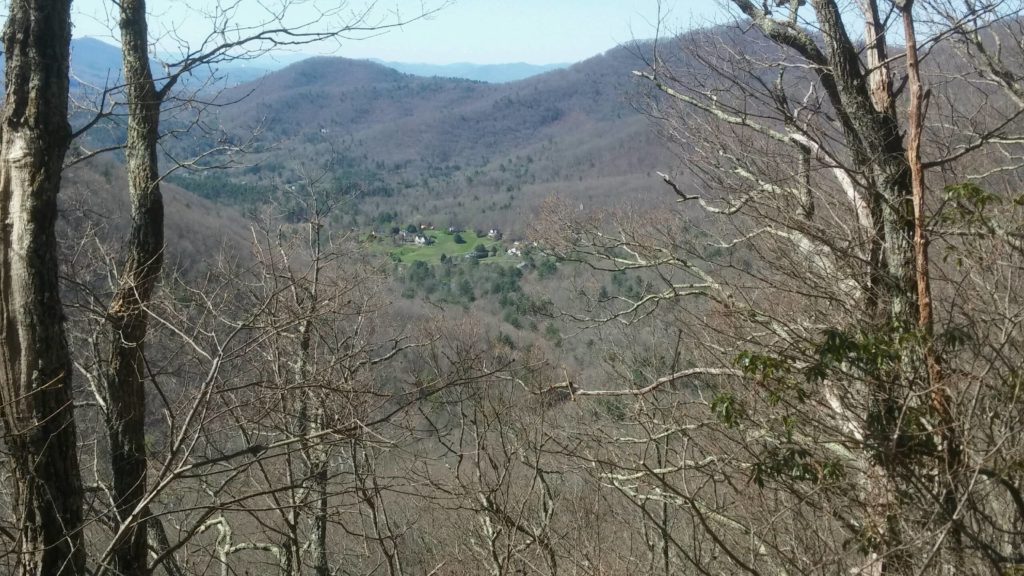 As we meandered along a few switchbacks and gained elevation, the trail veered away from the road and offered a few peeks across a high valley through the still leafless trees. I began to settle into the rhythm of a steady pace and a quiet heart, taking in the sights and sounds of a lovely spring morning. I had survived my first winter in Asheville. There had been a few mornings when temps were in the teens and the wind dragged tears from my eyes and stripped away my every desire to live in Vermont. Delightful winter days are more numerous here. I thoroughly enjoyed walking when the sun was shining and I had plenty of layers to trap what warmth I generated. I admit I was impatient for spring each morning that I had to face that bus stop, standing on a windy sidewalk in the cold. In March I thought these mornings would continue forever (when was spring around here anyway?). The view of the mountains from the city sustained me. I felt cold but lucky to be able to see the place I would soon be exploring.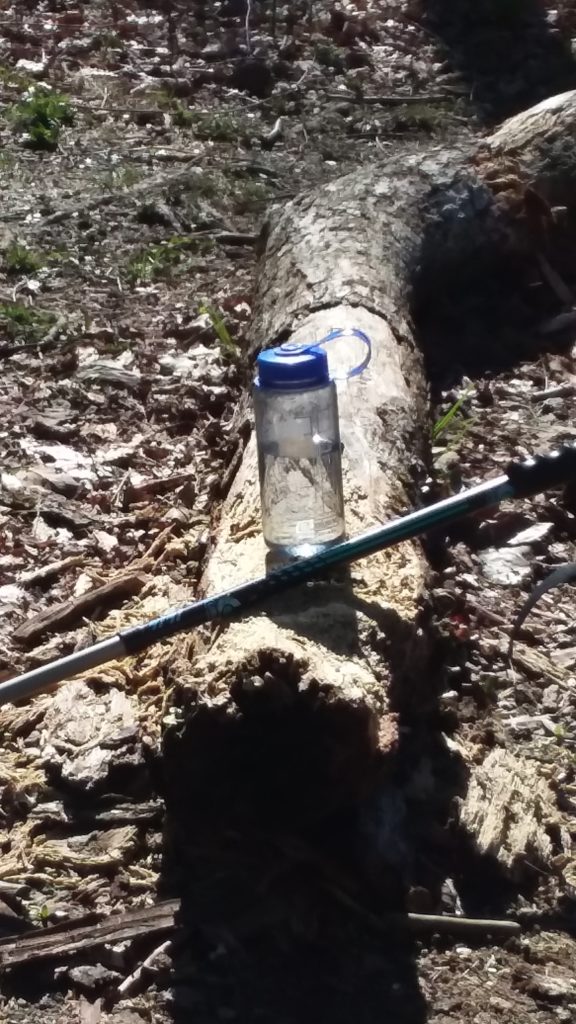 As I took my good old time, hiking uphill toward our destination, Rattlesnake Lodge, my guide patiently waited on the trail for me to reach him. Like any well-seasoned (though always questionable) guide, he began to enlighten me with the history of the lodge. He likes to read the guide book before we set out. Built in 1904, burned down in 1929. Not content with this skeletal parable, I later learned it was built by Dr. Chase P. Amber as a mountain get-away from the city of Asheville (can't imagine the extent of the bustle in this city circa 1904), where he and his family enjoyed the many seasons presented by the mountains of western North Carolina until his wife died in 1918 and he never returned to this little slice of paradise and the place burned down. It is now owned by the Blue Ridge Parkway folks—that's why we can hike here. Thank you, sign at the top, for filling in a few details.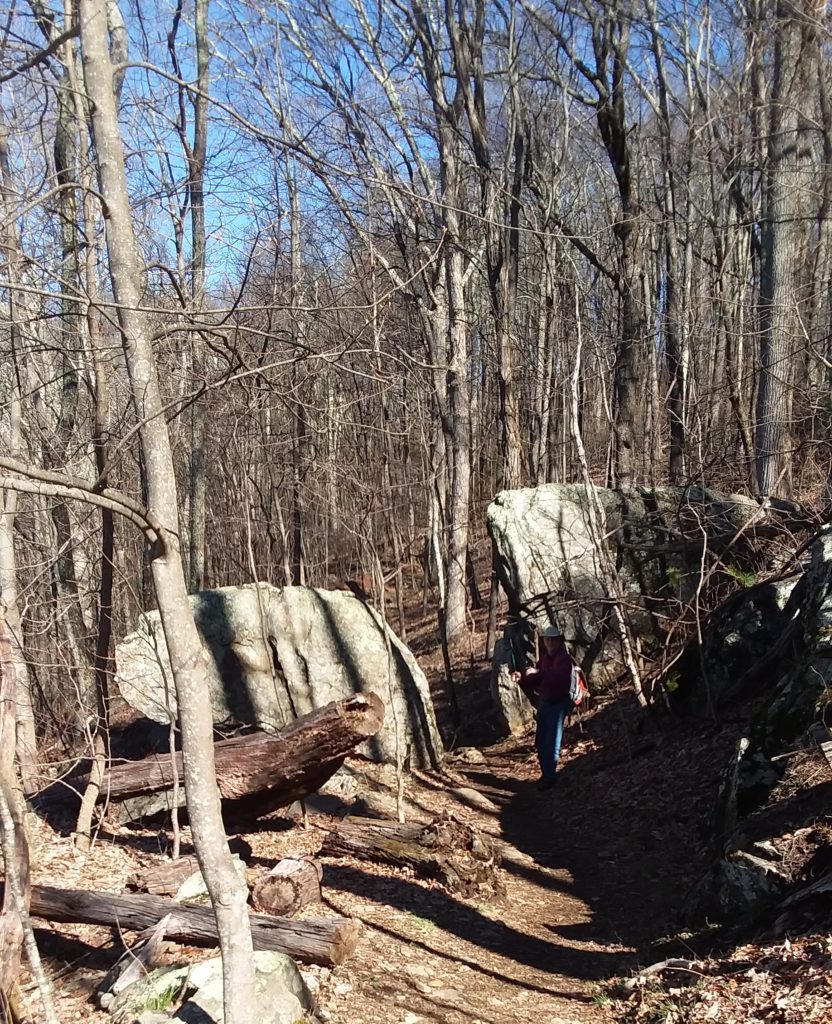 On the approach to Dr. Ambler's estate, we passed through "the portal," a deep cut through a rock that made the passage there easy for us modern-day adventurers. Personally, I would have enjoyed climbing over it (bouldering is fun!), but easy access is apparently more highly-prized by the general public. Nonetheless, a designated through-way sparked my imagination. Like discovering the back of the wardrobe that led into Narnia, I envisioned a whole new place on the other side. It was pretty much the same, but I became enchanted anyway. Trees were flowering, infant leaves were wafting in the wind and my footsteps were bringing me closer to our destination.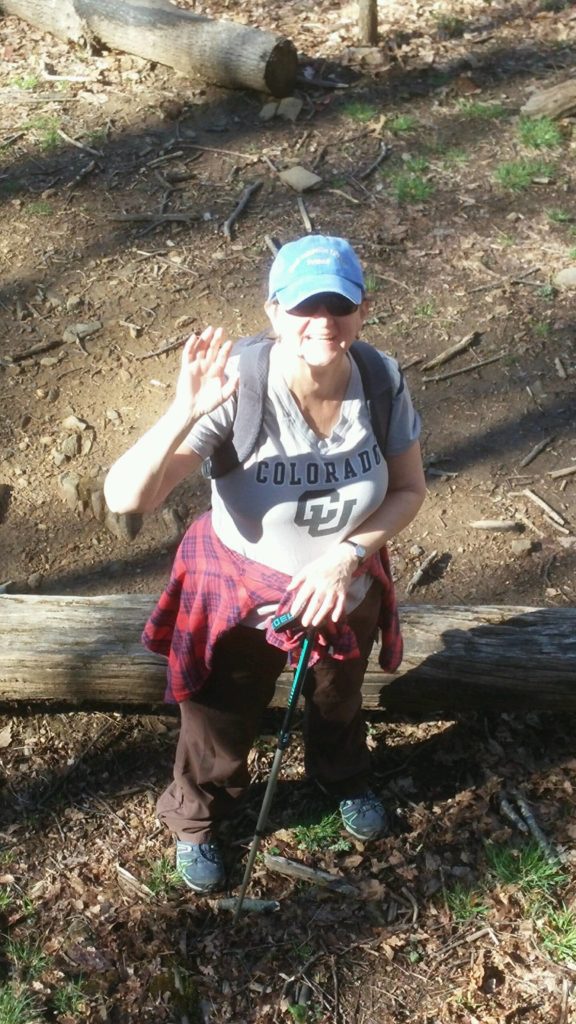 We came upon the ruins of the old cow shed. I gleefully jumped down into an area surrounded on three sides by old rock walls for a perfect photo opp. We then clambered up toward the lodge for imaginary tea on the veranda, a swim in the pool and a rousing game of tennis on the court, which had a magnificent view. We settled for sitting on a log overlooking the old tennis court, rewarded with a sweeping vista of nearby peaks. We drank from our water bottles and ate homemade pumpkin muffins, contentedly contemplating the charms of having a mountain hide-a-way in this idyllic spot.
The trees had enough leaves to give the ground some dappling, creating the perfect sit-and-reflect atmosphere. As we lingered there, we imagined the structure of the newly-built lodge in the location of its old rock foundation. We marveled at how any sizable edifice could have been built in a location void of roads.

We wondered how they filled the pool, which, perched on a ledge, would have been perfect for a romantic moonlit swim. I confess to wondering how unromantic that swim would be with the arrival of a curious bear.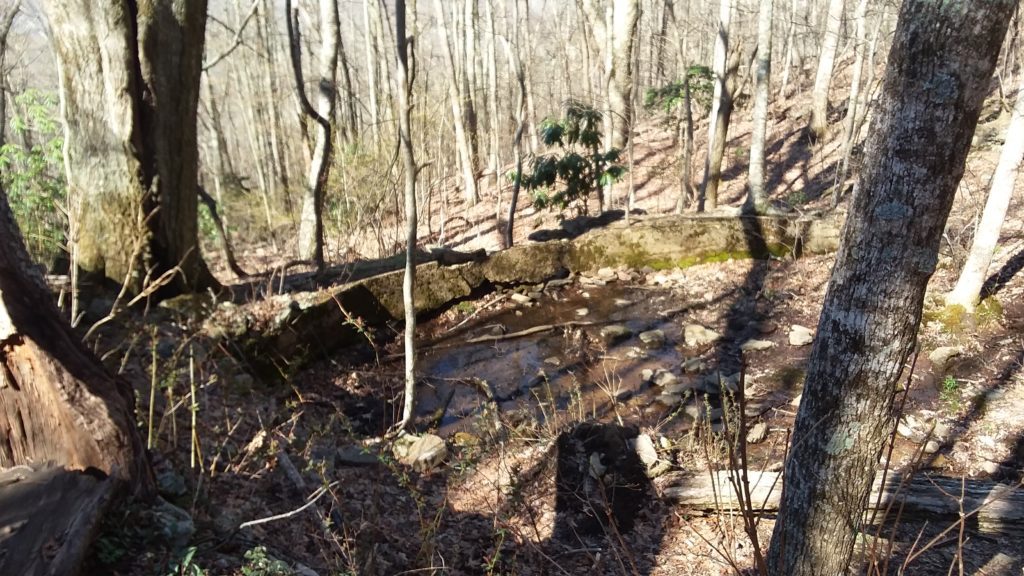 With my mind back on bears, I decided it was time to head down the trail and back to the car. As, we began our descent toward the portal, out of Narnia and back into real life, I heard a rustling in the undergrowth off to the left of the trail. I suspected the antics of my guide, who has an established reputation for shenanigans both on and off the trail. I refused to be rattled unless I saw a rattlesnake at Rattlesnake Lodge. We paused once again down- trail to marvel over the views before arriving at the point where the traffic sounds on the Parkway were audible and the parking lot was within sight.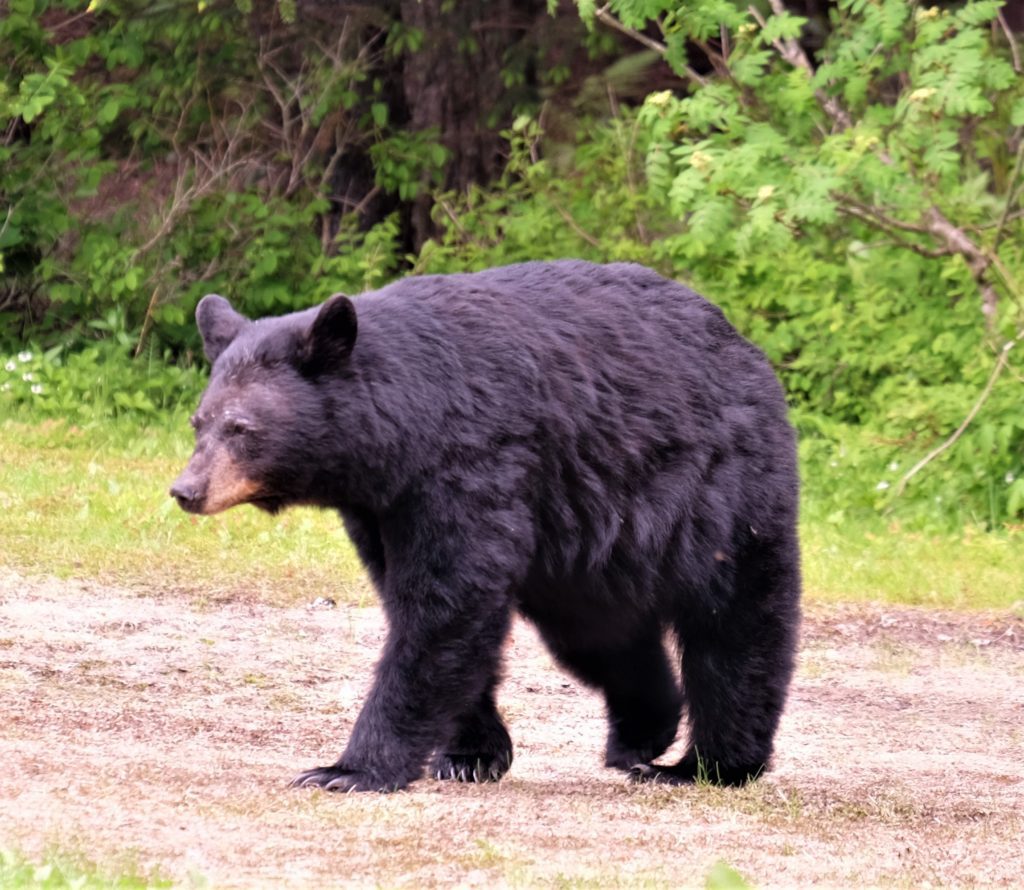 After being thoroughly exercised and wonderfully enchanted, we began the drive along the Parkway and down Town to Mountain Road (a perfectly crafted name), content and complacent until we saw a bear…on the side of the road. Our heart rates accelerated as our car slowed. That's a BEAR!! That's a BEAR!! Are you sure it's not just a very large dog? Pretty sure!
A bear seen from the car has more happiness value than any one of the 20,000 bears (that's how many there are in N.C.) standing on the trail in front of you.
Hike on,
Cheryl
Guest Editor Miss Mudpie enjoys playing in the dirt (aka gardening). She is a family member in that way that involves more than a one-word description. We've been swapping stories for a while now. I trust her instincts when she notes I've gotten too serious.