^^^^^^^^^^^^^^^^^^^^^^^^^^^^^^^^^^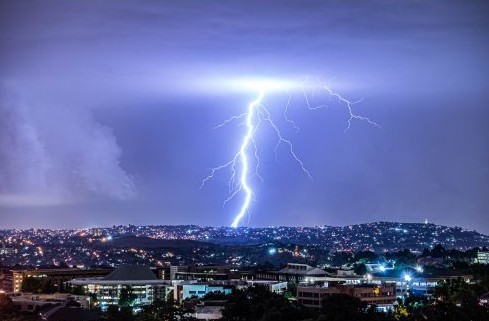 It's kind of an embarrassing subject to talk about, but the rain in North Carolina is like being pissed on by ants. Until it's not. That is what is so shocking. I moved here from Texas, and as my Houston pals can attest, when I was out and about in Houston, and it was raining, I sometimes wondered if I (or my car) would make it home alive. That's how it rains in Texas, where the land is flat and the sky is so wide open you can practically wave to your neighbors in Oklahoma. The lightning bolts are hugely visible and look like the wrath of God. The thunder makes you dive for cover because it sounds like an airplane crashed in your backyard. Heart attacks could be triggered by the sudden monstrous booms of incalculable decibels. It rains in torrents, buckets, Niagara-like dumps that fall in an unnaturally short amount of time, so naturally, it floods nearly every time it rains. Everywhere is already downhill, ready to collect what Mother Nature decides to leave behind. Rain there is messy, inconvenient and stressful.
When my husband and I moved to the mountains in North Carolina, we were enchanted by rainy days, where the water droplets came down like fairy mist to soak thirsty gardens and continue on their way down the hill to be collected by river nymphs who would escort them across the state into the Atlantic Ocean. Rainy days here are peaceful events. Even if there is a rare thunder storm, the sky rumbles like a hungry belly as it echoes off the mountain peaks and one or two flashes of lightening light up the sky with a benign aurora. I believed we had found Shangri-La, precipitation-wise. But, every once in a while, I am surprised by an errant weather event, a toad-strangling, nymph-drowning, basement-flooding deluge of Texas-sized magnitude (minus the flashy light/sound theatrics), that astounds me for its rarity. Two such events occurred within days of each other just recently. We were out and about on the town both times.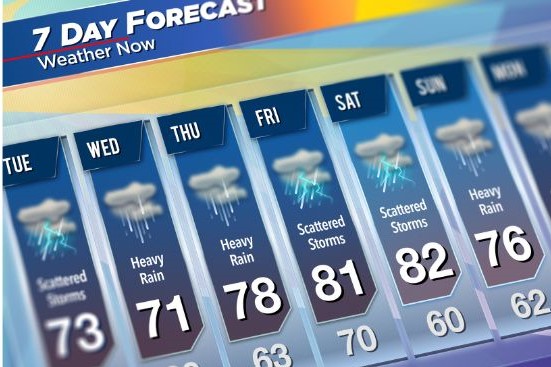 It's true that the inhabitants of the Hobbit House scoff at the daily weather reports. High percentages of rain seem to actually mean nothing. "It could rain!" appears to be the best prediction, so I'm not sure why the powers that report insist on attaching numbers to their forecasting prophecies. I've learned not to cancel my plans because, even if the chances are 87%, generally speaking, it's not likely to be true on our little patch of the range. Sometimes we even see dark clouds to the west and take an umbrella or drive instead of walk. If we take these precautions, it's pretty much a shoe-in for not getting a single drop.
And so it was on a warm Wednesday evening. We hauled our out-of-town guest to a couple of Asheville's best rooftop bars, perched on tony hotels, to drink and dine and admire the views. The sky was clear, as it had been all week, despite the insipid prognoses of precipitation. After a lovely meal at the second sky-high venue, we decided to call it a night and drive our friend to his hotel just south of Biltmore Village. We walked a few blocks back to the first hotel, entered its doors as we had parked in the lot behind it, and in the time it took to cross the lobby to the back door, the sky had opened its water portal and was tossing every single drop of its inventory onto the street outside. The deluge was so heavy, there was already a swift current sluicing along the curb, down to the street below it. No warning except the usual silly forecast to which we paid no attention as the day had been clear and balmy and the weather predictors were always predictably wrong.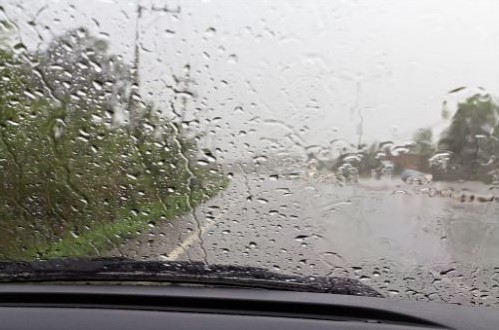 We drove in the downpour for 15 minutes to our destination and dropped off our friend in front of his hotel. The rain was coming down steadily at an uncomfortable pace and dusk was rapidly approaching. We decided to take as short a route possible back to our neighborhood without getting on the freeway. This would involve a brief stint along the French Broad River before we turned to drive uphill onto higher ground. The rain increased in its intensity as we lumbered along with a few other cars sheltering folks who also just wanted to get home. It was difficult to see the road, the river or anything else. We missed our turn, which would have taken us across the river to follow it for a short distance on the opposite side. Plan B was instituted since we had no other options but to continue on the wrong side of the river for quite a way until the next bridge presented itself, if we could even see it in that liquid avalanche. Our Texas instincts kicked in as we were desperately seeking higher ground. In Houston that would be the upper level of any parking garage you were willing to spend the night in.
The river is a low point geographic-wise. All the loose, free-roaming water makes its way to that hydrated highway. By the time we crossed the next bridge and blindly started making our way uphill, it felt as though we were salmon swimming against the tidal flow in a mad attempt to breed the next generation. As we made our way up that hill to the narrow street that runs through West Asheville, we were seeing fewer cars on the road. Up top, the rain continued to hurl itself at our windshield and we slowed to a snail's pace as we sloshed through street ponding, hoping for a clear way in front of us. We were still a few miles from home.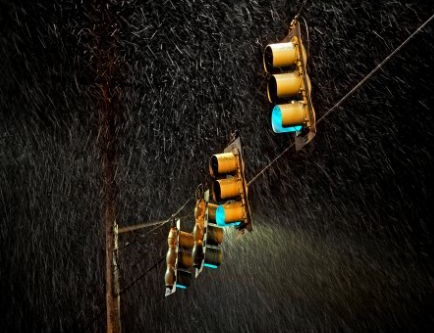 The easiest thing to make out in that deluge was the traffic lights because everything else was a gray blur through our car windows. We were able to estimate where we were by the number of traffic lights we came through. Inch by inch, we rolled forward, both of us as tense as we would be walking across a log over a raging river. By the time we could see the grocery store glowing through the windshield, the rain began to abate and our muscles unclenched a bit. The car tires splashed through standing puddles along the road. Half a mile from our house, we were, at last, able to identify the buildings and businesses close to the intersection that marked our neighborhood. It wasn't until we were parked in our driveway that we could let out huge sighs of relief.
Ten days later, we met up with other out-of-town friends for dinner and drinks. Before leaving home, the memory of the drive home after our previous outing caused me to consult the weather report. Scattered showers of undetermined intensity and/or timing might be out there, maybe where you want to go, maybe at the very brewery you'd chosen for your Saturday night entertainment. This particular brewery is a favorite as it has a large outdoor space, lots of covered tables and is close to our home. Since we got there early, we claimed a large table on the covered patio, right next to the building.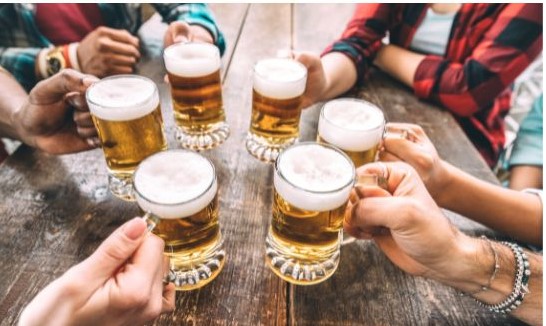 Friends arrived, beer acquired, food truck food ordered. We all agreed it was a lovely evening, warmish but comfortable. If the Asheville weather was going to behave like southeast Texas weather, this is the place you'd like to be holed up for a while longer. A decent amount of time into the drinking and eating and chatting, the rain showed up. We had a view of the river from our covered patio and watched as, once again, the sky fed that meandering waterway with its excess buckets of precipitation. This time, we were happy to stay parked on our bar stools, jolly for being among friends, for beer we did not have to walk out into the rain to get and for waiting until the sky cleared before climbing into cars for the ride home.
We've had a couple of drizzly days since then, the polite Carolina rain type we usually get. Those are days for staying home, cooking and reading. Our greatest joy, and the reason we moved here, is the opportunity to play (walk, hike, eat, drink) outside for most of the year. I'm not averse to standing in a fairy mist with a Yeti full of hot tea if I'm appropriately attired. I'm just now learning how lucky we are to have such fabulous weather year-round, made all the more clear when the occasional rude burst of rain gets out of hand and ruins the party. Thankfully it's rare enough to not worry about the possibility…unless I have to spend the night in some parking garage downtown because the cost would be enormous.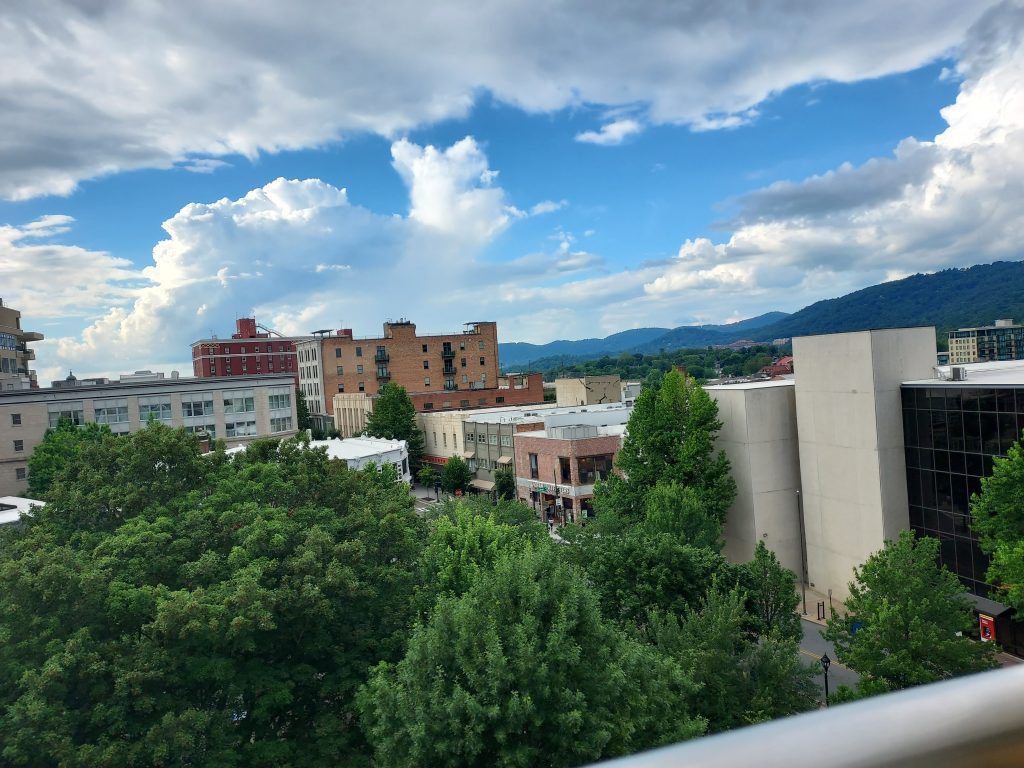 Yesterday evening, we visited a rooftop bar and marveled at the view of rain drenching the neighborhoods along the southwestern range, but not us. High and dry on our mini-mountaintop, we clinked glasses with friends to our good fortune and the ever-erratic chance of rain.
May you have fair weather,
Cheryl
Someone always has something to say about the weather. Quote of the Week is no different!