Gina's Review: This week's timely advice has something for everyone, whether you like to shop or not. Remember, you can always re-gift it next year.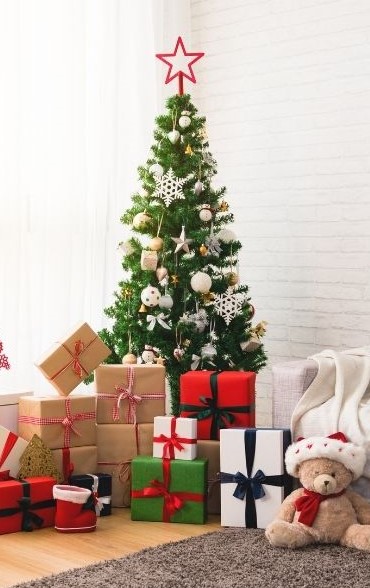 This is the year of shopping early. I saw this news on the Today Show. Delays in supplies, glitches in delivery systems, not enough stuff to go around. Don't worry, as your early shopping professional, I am here to guide you through the process of getting all the goods on time without the hassle. First, pour a cup/glass of your favorite beverage and dig out one of your stashed baked goods. We may be busy for a while and you'll need to keep up your nourishment. I do not receive compensation for the sale of any of the products mentioned in this blog post, nor can I vouch for any of the websites and certainly take no credit for either the success or failure of your gift-giving endeavors.
The best, trendy and hypocritical advice I can give you is to skip Amazon. I ordered stuff already and they informed me much later than I would have liked, that they cancelled my order. They gave me no explanation for this rude dump. I had to find the stuff I wanted elsewhere, which is what I should have done in the first place. I must confess, I ordered more stuff from them and am waiting with baited breath for the opportunity to find some other company who will send me the goods when Amazon fails once again. I fully expect this, so I will be delightfully surprised if they actually come through.
Let's dig right in to the best stuff going! I am a huge fan of weird things and finding such delights online tempts me to order, order, order. So, in the Strange Stuff category, my hands-down favorite is an acre of land on the moon via officiallunarland.com. You can purchase a Standard Gift Package for the great price of $29.99, which includes 1 acre of lunar land with a deed and official registration with the IAOHPE, which probably spells bullshit in Moonlingo, but officially it's the International Association of Human Planetary Exploration. There's no mention on their website where you can apply for a building permit for that condo complex you and your buddies are planning. At any rate, it's a loftier (and $20 cheaper) gift than the Golf Club Urinal at $49.97. This unique gift is brought to you by Amazon, that company that just cancels your order with zero explanation, so you might just as well give your gift recipient a Free Pass (you can print one right on your own printer) to piss on the nearest flagpole without incident. Both gifts most likely have the same value and your friend/relative will be just as delighted by your whimsy. I can't say Amazon is without unique items in their holiday lineup, just beware, before I divulge the rest of the best, you may never see these beauties waiting in a box on your doorstep.
Never underestimate the tastes of your fellow humans. Amazon offers the ever-popular Earthworm Jerky at $14.99 for ¼ oz bag. Geez, you'd think it would be cheaper since I'd imagine it's produced by some guy in his backyard digging 'em and drying 'em in his food dehydrator while his wife is at work. And then, for that special cat person in your life, you can purchase a craft book called Crafting with Cat Hair for only $8.04 in paperback. Personally, I don't think anyone should be encouraging this activity, but I have seen people make art out of their dryer lint, so repurposing instead of landfilling lends this activity a certain noble, edgy character. Weave on wacky cat people!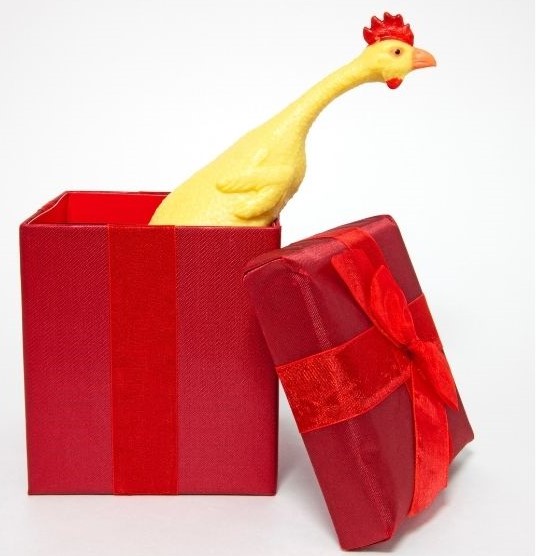 You should check out The Grommet online. They have more stuff than I could ever dream up, some of it is even useful like a Rubber Chicken Target Game, Silicone Bacon Grease Container and Fancy Watermelon Cuber (I usually hack my melons with a knife and then mash my face into the resulting slice, but some people are more refined). Most of these amusing products were under $50. If you are looking for nifty stocking stuffers, they sell the Tick Removal Tool in a six-pack which you can split up and pop into the stockings your family has hung by the chimney with care—soon to be tick-free. The most useless thing that caught my eye on this website, that did not involve a rubber chicken, was the Preserved Rose Zodiac Gift Box. The rose is a real flower that lasts three years and comes in a lovely little box, which when you lift the lid to gaze at your chemically-suffused rose, displays your birth constellation in crystals. The product description didn't say if the rose smelled like a rose for three years–or more like a DuPont facility. Perhaps there is someone on your gift list who likes looking at flowers sprayed with dubious substances while being bedazzled with the ominous glow of shiny box stars. If so, then here's the perfect present at only $45. Surely Auntie Theodora is worth the splurge.
Candles sell big at Christmas time. My favorite purveyor of candles is Grizzly Candles sold on Etsy. Your boss might merit one of these delightful aromas: Moldy Towel, Dark and Dank Basement or my personal favorite, My Last Fuck—Oh Look it's on Fire, for the mere pittance of $13.99. Shopping has never been this much fun. But Wait There's More. Speaking of bosses, there's the Custom Voodoo Doll by Budsies. I think it's only fair to point out that Budsies does not market them for this purpose, but one can send a picture and receive a custom-made doll in the likeness of one's nemesis for $99 – $115 and what one does with it is one's own business. This is the dark side of custom stuffed toys. It's actually a sweet website that makes adorable playthings for well-adjusted, life-affirming individuals like us.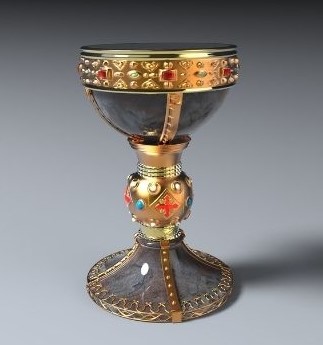 Do you have an avid cyclist on your list or perhaps a budding scientist? Trotify is a company that makes a coconut clapping device that you can attach to a bicycle so that you can sound like the knights in search of the holy grail ala Monty Python. (Side note: I foolishly assume all the people I know are Python fans and have seen every tv episode and all the movies, hence will understand the coconut clapping reference above. If this does not apply to you, let's have a chat so that I can bring you around to the bright side of life—there I go again!). I fell in love with this product—there's a movie of it in action on the Trotify website. Unfortunately, they are currently looking for people to sell them and aren't offering them for sale to the public online…yet. If this product appeals to you, sign up for their email announcements and tuck this info away for next year. I have a feeling they will be an up-and-coming company in 2022.
For your junior scientist, you should check out the-odin.com. The Genetic Engineering Home Lab Kit is only $1,440. Surely your child's genetic engineering propensities are worth the investment. They sell all sorts of items such as human cell cultures and glow in the dark mushrooms which might keep you up at night until junior goes off to college to learn how to make Soylent Green or something. Go creepy science stuff!
When you get tired of looking at silly, useless gifts, you might be compelled to seek out products which make a difference in the world. My last suggestion for online ordering is to find a company that embodies giving back to the community. 21 Pineapples is just such a site. Be A Good Human is their logo. Their sales of hats, tee shirts and Hawaiian shirts support Downs Syndrome organizations. You will love the products and the people selling them. You can find other such vendors by going to the Greatergood.com website. Lots of companies, big and small, donate proceeds to worthwhile causes.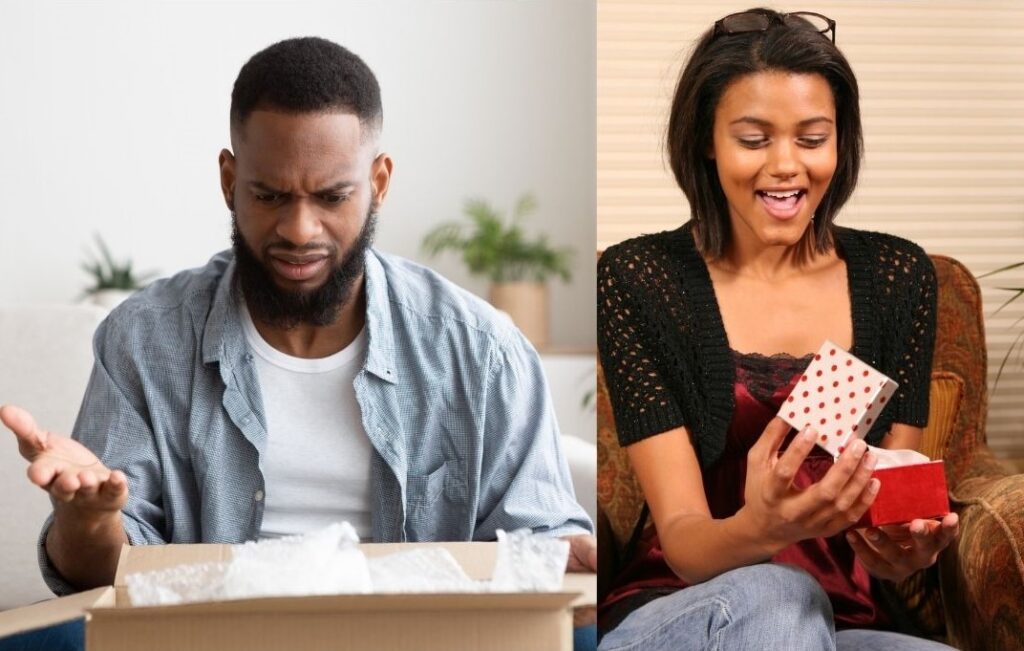 Now we come to the best advice I can give you this year.  Go to a locally-owned store!  It is the most amazing shopping experience out there.  You pick up something in the store and pay for it.  No waiting for the cancel notice, no supply-chain crap (it's right there), no shipping, no hassle.  Go early on a Tuesday morning and those store clerks will be ever so eager to help you.  I had the best Christmas shopping experience in person.  It got me out of the house and away from the computer (sorry computer, you are a useful machine, but I need to see actual humans once in a while!).  Local artists make cool, gifty stuff and often set up at holiday market events.  Be inventive, find the unusual and surprise your loved ones with something they would never have expected.  Be creative, have fun while you're shopping and remember, it's the thought that counts.
Better get crackin',
Cheryl
Guest Editor Gina dislikes shopping no matter the season, so you won't see her at the mall. She'll probably hunker down until it's safe to come out, maybe for the after-Christmas bargains. Or the January sales. She appeared confused about my Monty Python reference, but I'll overlook that because she has excellent knowledge in how to end a blog post.
.