Ruth' Review: Fun fun fun!! I remember that table. If only my back would accommodate shopping. It never really has!! But the next time I need an item of clothing, I will head up to our Texas Thrift store. ?
&&&&&&&&&&&&&&&&&&&&&&&&&&&&&&&
There is a section of the massive Goodwill center down the street from my home which houses the retail rejects from all its local stores. Employees wheel out large blue bins loaded with items of clothing, books, housewares and small appliances for intrepid shoppers to dive into to find that perfect jacket, awesome pillowcases and appropriately decrepit-looking jeans, sold by the pound. This is where my visiting friends Patricia and her daughter Autumn found their ultimate Asheville entertainment.
The bins' most attractive feature is that you never know what you will encounter when you shove aside that corduroy jacket with the busted zipper. In our case, it was men's underwear. All men's used underwear should be sold for fiber, in a large pallet of other undesirable articles of fabric. Sure, I am being unfair to those men who need to buy their underwear deeply discounted at a Goodwill store. Any that fail to sell should not be wrapped up in an attractive skirt and shoved into a blue bin to be involuntarily discovered by a soon-to-be-unhappy explorer.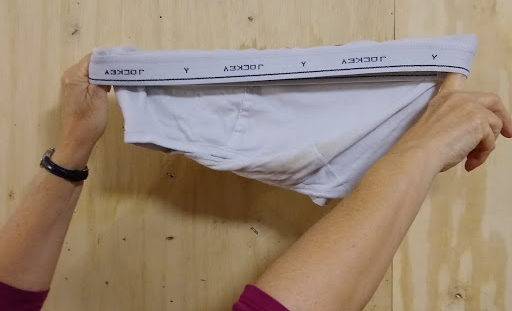 My body has a visceral reaction when I wrap my hand around a colorful fabric peeking out amid all the dull colors in the bin and come out with a pair of well-worn BVDs. I have adopted a strategy any thrift shop veteran would perfect under these trying circumstances. I pull them apart at the waist band and slingshot them over into the next bin—preferably one where no one is busily searching, arms sunk up to their elbows, in a mass of clothing. My visiting friends highly applauded this action, an unexpected entertainment.
This was not my first rodeo. I have long been a fan of thrift shops and the habits one must cultivate to address items which could cause deep disgust during an otherwise delightful quest for that perfect shirt with a rock bottom price tag. The lower the price, the higher the risk of an icky encounter.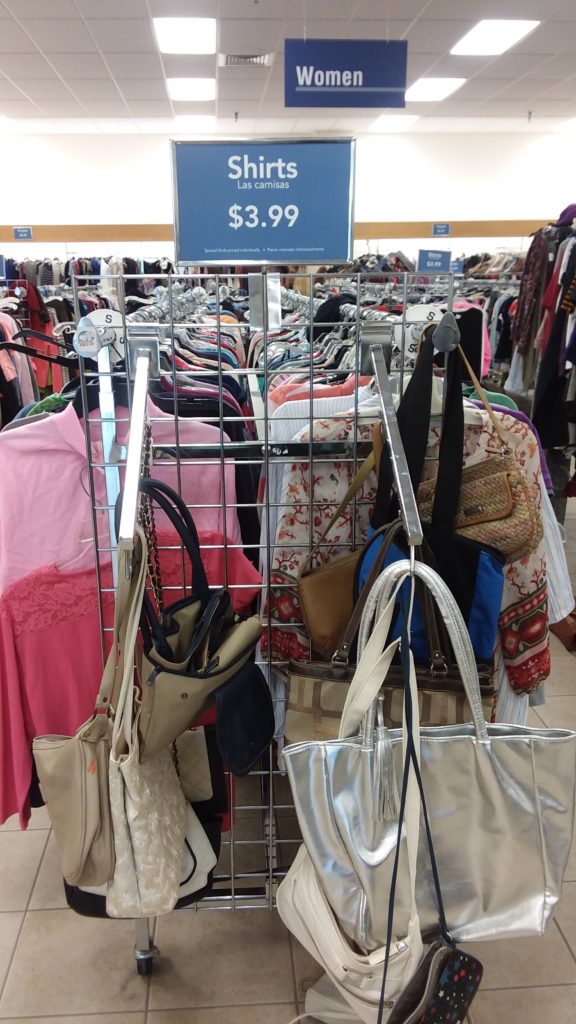 The Goodwill retail center (not the bins) in West Asheville is very popular. The store is one of the cleanest and most organized of any thrift shops I have ever entered. There are fitting rooms, which might be considered a luxury to the seasoned thrift shopper. Some thrift shops require strategic maneuvers for trying on their merchandise. A long skirt and tank top can serve as a fitting room of sorts. Hide between the racks and slip those jeans under the skirt. Watch for creepy dudes lurking in the aisle. Blouses and dresses slide easily over the tank top. Gentlemen, you will need to find a store with a dressing room, because any man removing his trousers between the aisles will cause a public fuss (see creepy dude comment above). Some of my fellow thrift shoppers don't try on the clothes but simply buy what they like, try them on at home, return them within the store's time-limit policy or donate any mis-fits back to the organization.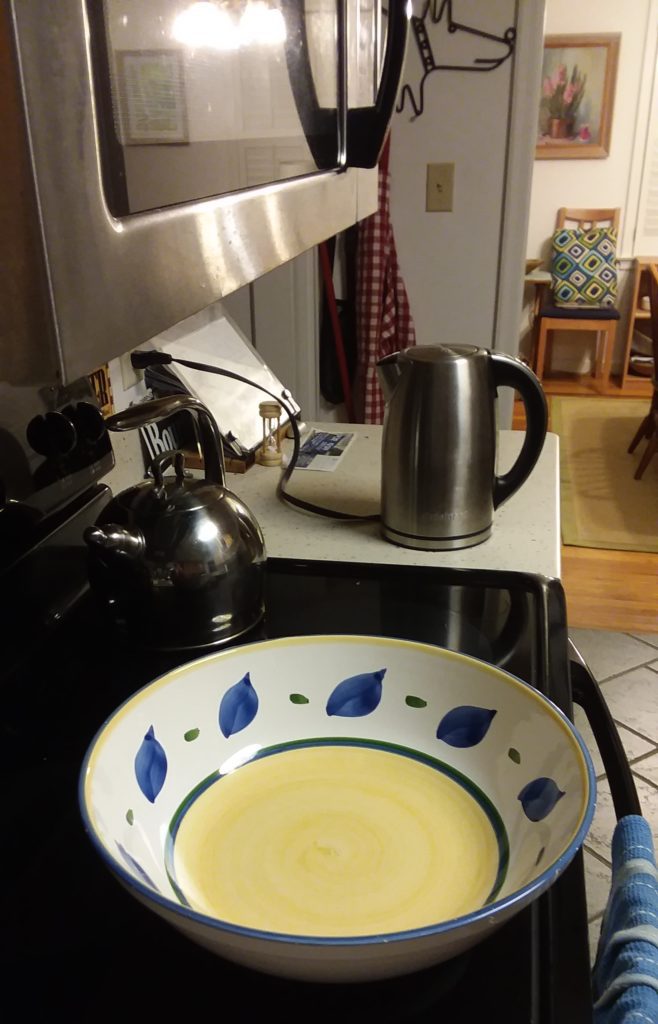 Clothes are not the only thing I buy at thrift stores. The Guild Shop, a charity consignment store in Houston reserves a generous section of its sales space for housewares. Need a pasta bowl? Wine glasses? Fireplace cover? Jennifer and I did the 20-yard dash of carpet buying one afternoon as the shop was closing. In 10 minutes, we ran through the store, spotted a couple rugs that would look good somewhere in my house, called for assistance, ran them to the register and made it out just as they were assembling to lock the doors. I am dedicated.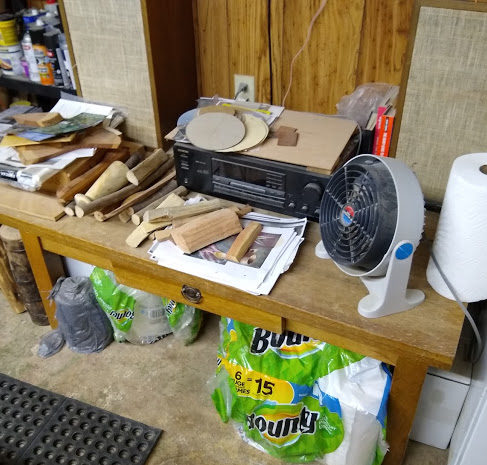 Then there was that perfect coffee table I spotted while shopping with Ruth at a place called The Bluebird Circle. This was a big table. I had a big living room and a small Honda Civic. We managed to wiggle that sucker into the back seat of my Civic with zero room to spare. Now that I have a small living room, the table serves as a holder of stuff in the creepy basement, a fate it does not deserve.
Laura had an aversion to trying on or buying clothing previously worn by unknown parties. Jennifer (of the carpet-buying sprint) and I talked her into giving it a try at our favorite store for a marathon thrift-shopping day. This store had two advantages. There were fitting rooms (which had no air conditioning, so choosing the appropriate season was essential) and there was a Starbucks in the same shopping center. Large thrift stores tend to lack bathroom facilities for those long hauls of sliding hangers and piling up potential buys in grocery-store sized shopping carts to try on in those fitting rooms. We could even get a snack should the process span several hours, which it often did, so I was obliged to carefully screen my shopping companions to determine their loyalty and stamina.
Uninitiated thrifting shop mates should be thoroughly vetted and appropriately trained. The strategy is to split up, hit the racks looking for the items one likes while keeping an eye out for something in which your comrades in thrift might have an interest. This is essential etiquette. With this in mind, Laura was turned loose in the aisles.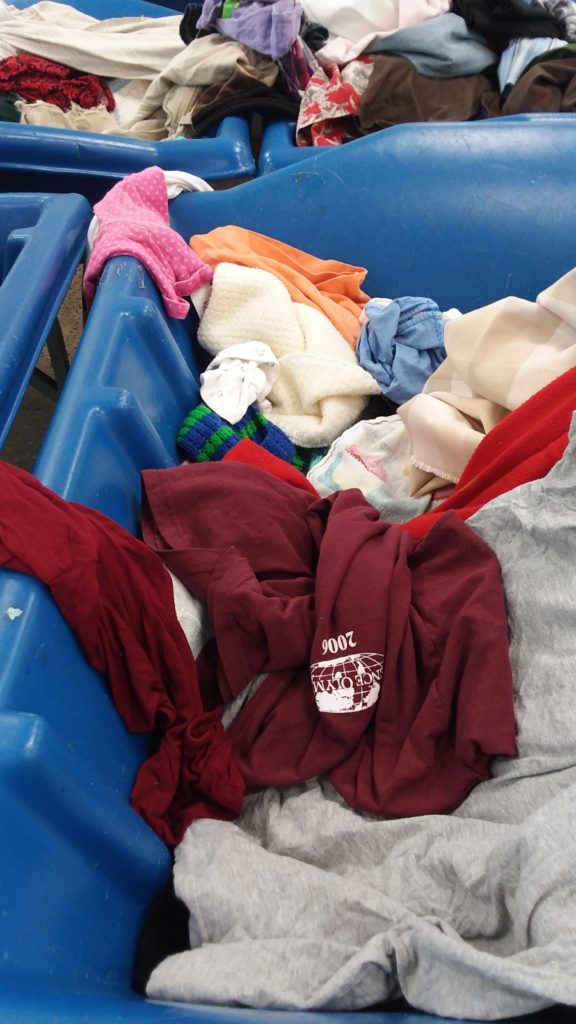 The shop, housed in a former grocery store, could take considerable time to comb through. Certain areas could be dismissed if no one in the group had an interest (i.e. books or games or men's underwear—or women's for that matter). The novice should also be forewarned that after having found numerous items of clothing to try on, it was possible to walk out the door having made only one purchase. Laura's first thrift-shop purchase was a white, rabbit fur jacket. Jennifer and I were bursting with pride, but not yet finished with our purchasing when Laura declared herself done and hopped along in her rabbit coat to the Starbucks to enjoy a cappuccino while we stood in a very long line at the checkout.
When I arrived in Asheville, I met Linda, a local thrift-shop aficionado. So great was her knowledge, she offered guided tours! Taking me under her wing, we flew to the Goodwill Retail Store to explore its many possibilities. Not only did we find suitable purchases, we found that we are compatible thrift shop veterans.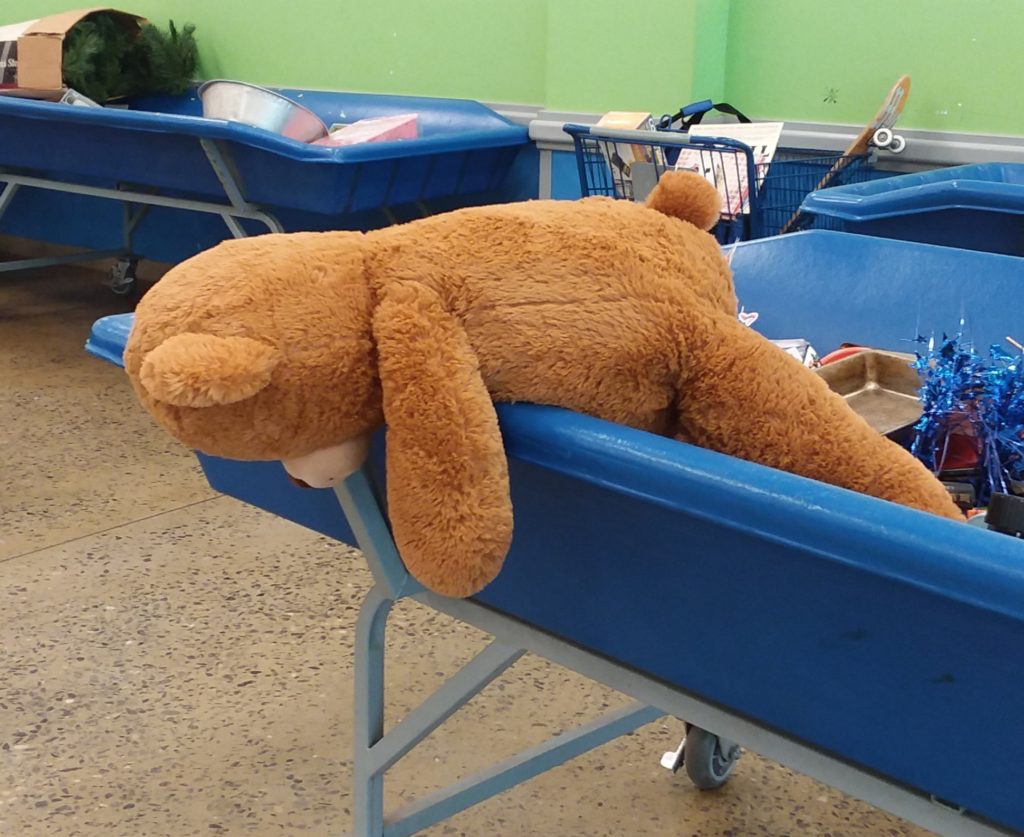 There is a kind of magic that lurks among the aisles of well-priced, gently-used clothing and housewares when the perusing is shared with like-hearted friends. The prospects of unearthing a treasure are higher. The joy of discovery greater. The bragging rights honored. Buying used clothing online can't compare. Who will stand outside the fitting room to honestly tell you it doesn't fit? Who will come rushing up to you with the skirt you've been looking for? Who will go with you to Starbucks to commend your newest shopping buddy on her fabulous find? Call up your pals, set aside several hours and start sliding hangers for a richer, more satisfying experience. Don't forget to wear the big skirt if there's no fitting room. I know where you can buy one.
If it fits in the washing machine,
Cheryl
Guest Editor Ruth is both a writer and photographer. She always enjoys a good shopping trip. Even if she needs to take a break, she will still tell you how great that color looks on you or that tchotchke would look perfect in your living room!