Anne's Review: Either I am really really lousy at editing, or you are super adept at succinct and pretty prose. Anyway, I don't see even one small edit that would improve this piece one bit (one of my faves, btw)!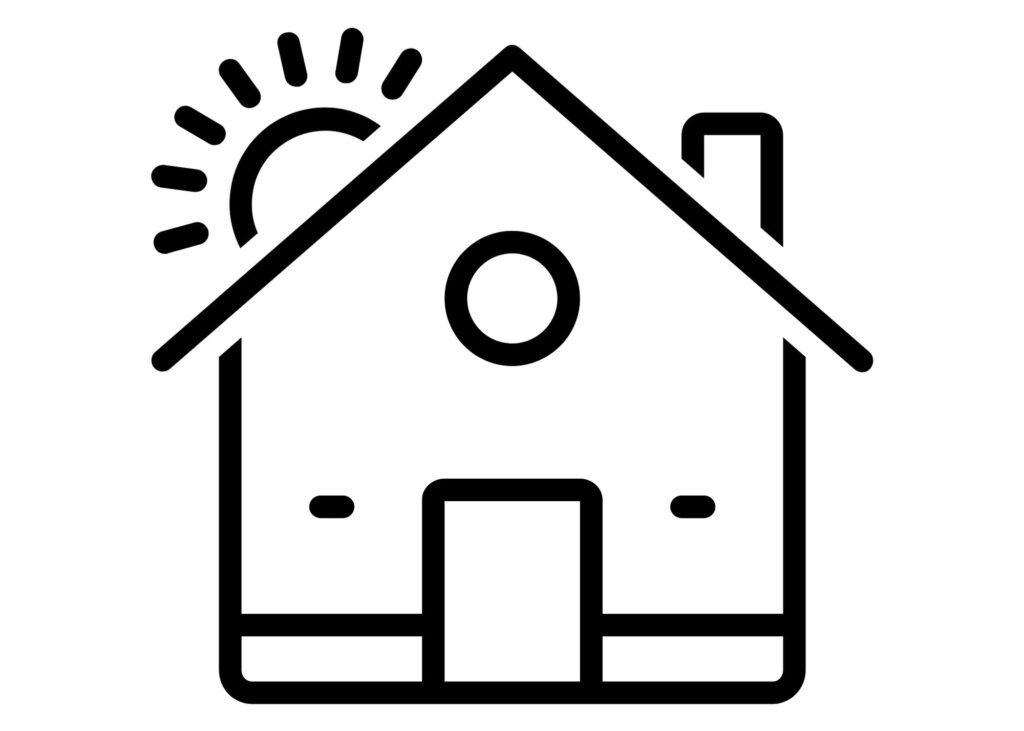 ****************$*****************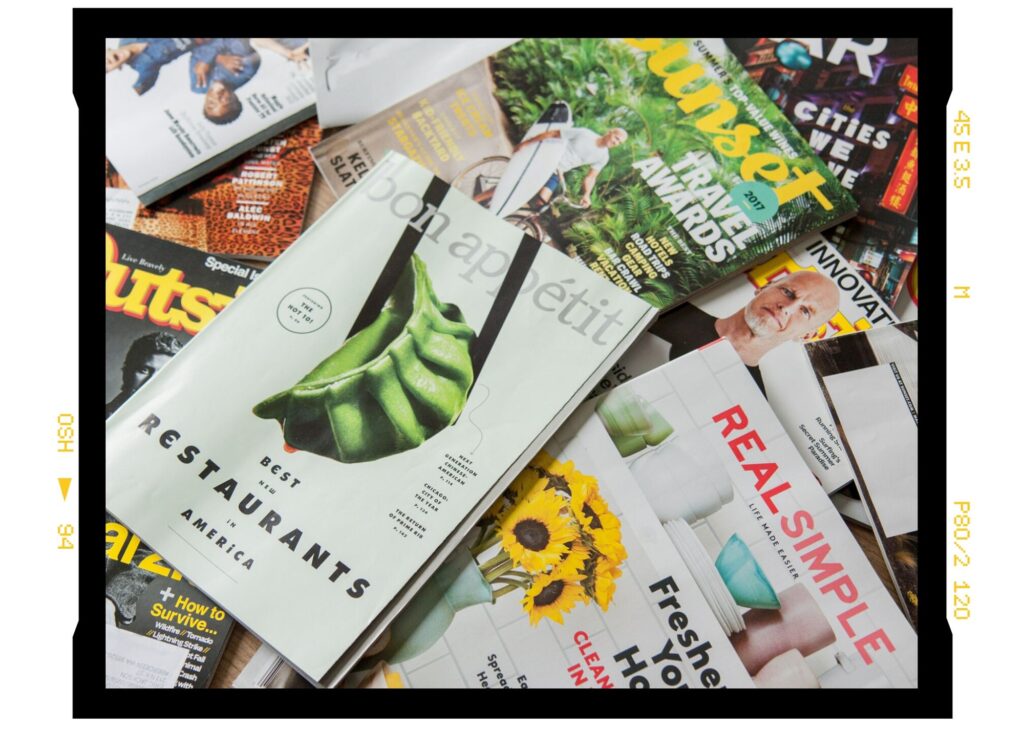 Rule #1 for decorating your space is: don't listen to me. I have no idea what I am doing either. I will watch endless hours of HGTV, scan the pages of Better Homes and Gardens, Google how to hang a gallery wall and I still haven't a clue. The sad fact is that you can peruse countless website displays of What You Like, then have difficulty translating that stuff into your pocketbook and your living space.
What I have learned from watching TV shows and reading magazines is that you should start by amassing a large sum of money. You only really need to do this if you want your decorating scheme to be completed within your lifetime. Otherwise, it can be parceled out over the years until your home looks the way you want it just before you move to another one. Or you can follow Cheryl's Cheap-Ass Redecorating Over a Longish Period of Time steps for updating the look of your home.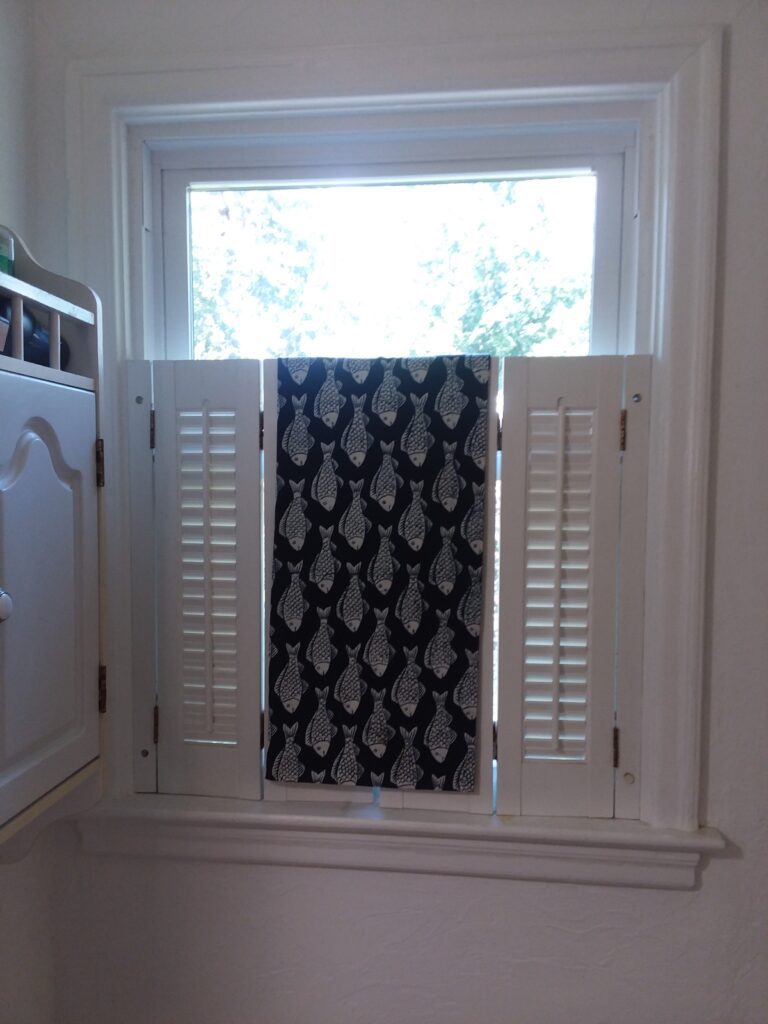 Step 1: Try to work on one area of your house at a time or else you are heading toward the inevitable Every Room is Partially Done Syndrome for months, years or even decades. You don't want to end up explaining to your guests what the room will look like in five years, once you get the kitchen finished. When we moved to Asheville, I started with the bathroom, a very small room with oversized fixtures. For the sake of simplicity, I decided to replace the window treatment. The current one was a rickety shutter affair that covered the lower half of the window. I shopped at a big-box hardware store for an accordion shade in a pretty color. It was $200. I might have spent the money if not for the fact that the shade of choice required 2 inches of sill space to attach. We had only 1 inch. We still have the shutter. Replacing the sink, tub and toilet would take too much time and money, so I moved on to another room with the potential for a faster turn-around.
Step 2: Know the look you sort of want your room to take on. Once you have found the picture of what you want your room to look like, scan the products information. You'll want to know those details because you will never buy any of that stuff as it is way too expensive. HGTV had a bit in their mag for copying a look for less money. I balked at what they considered "less money." The ritzy sofa pillow cost $600, but look, they found a similar one for $175! I felt like they needed to add a third category called When You Need to Afford Food.
I settled on redecorating our living room/dining room, which is much the size of what you might find in a New York apartment, if you are not a Rockefeller. I don't call our little mountain casita The Hobbit House for nothing. It is a cottage, so strategic placement of furnishings was crucial. After two years of enduring our initial set up, I decided we could do better, create flow and efficiency, and I had nothing else to do as we were staying home for the length of the pandemic. Pinterest, HGTV, magazine articles and Google searches for the best look in the smallest spaces delivered a surge of ideas for opening up the space and updating what seemed to me to be a drab scheme.
Step 3: Don't allow shopping for items that come close to your desired ideal to threaten your health or sanity or ability to pay the mortgage/rent. Fix a budget for each item. If you find that perfectly matching thing that is only a few dollars over, snatch it up! Mostly you will keep finding that perfectly matching thing that is 5 times what you budgeted and then you will get depressed because that's what you want and nothing else comes close. You may be tempted, but remember: it will be the only thing you change in that room. If that one item does it all for you, then do what you must. Otherwise, there are ways of compromising so that you can have everything you need for the perfect room.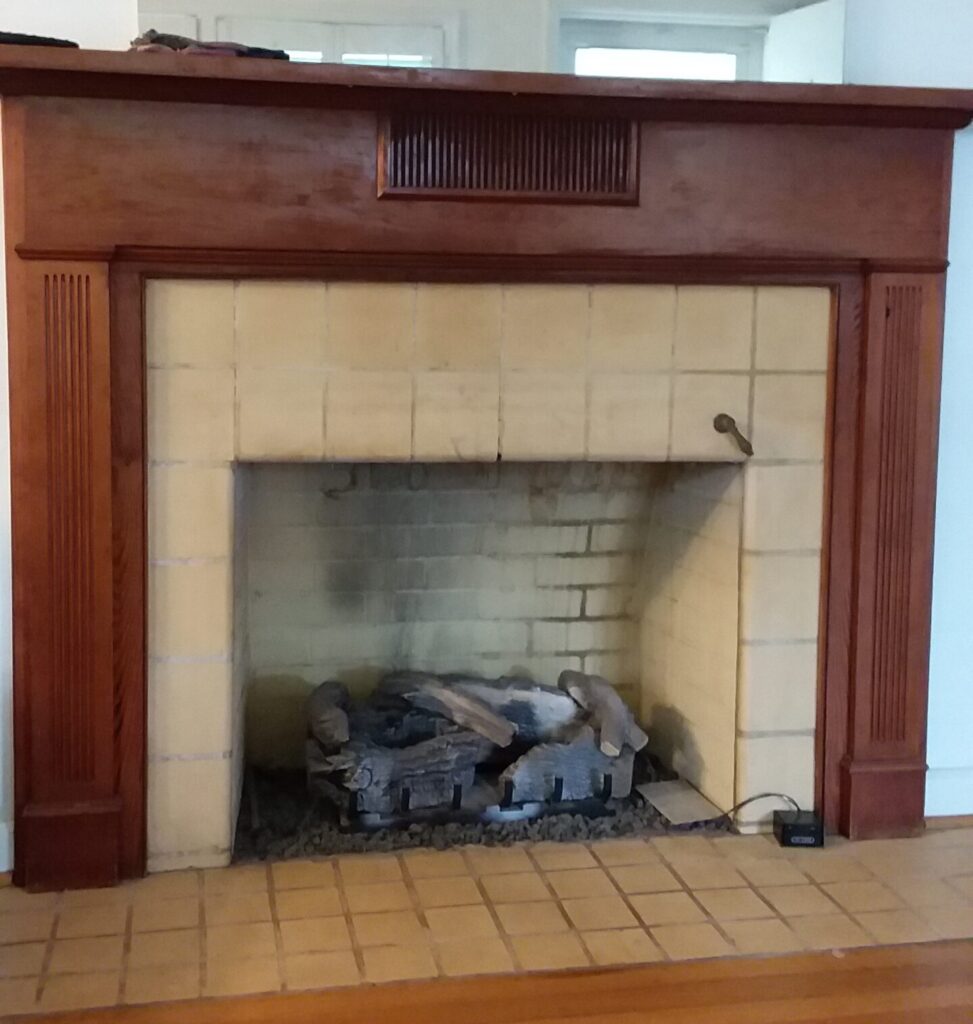 Don't let anyone tell you paint is cheap, because it's not, but it is one of the least expensive ways to add some pizazz to a brownish interior. When I buy a previously-owned house, I marvel over what the previous owner refused to change with a little paint. In our Asheville house, it was the fireplace. The mantel was made of a cheap wood with an ugly reddish-brown stain. The tile surround looked as if it was scraped out of the diapers of newborns and slapped onto the side of my fireplace. That's really graphic, but you're not the one having to look at it. A trip to the paint shop down the street reminded me that paint can add up in price, especially if you add primers and multiple colors. Still, it is cheaper than pulling it all down (what I really wanted to do) and starting over.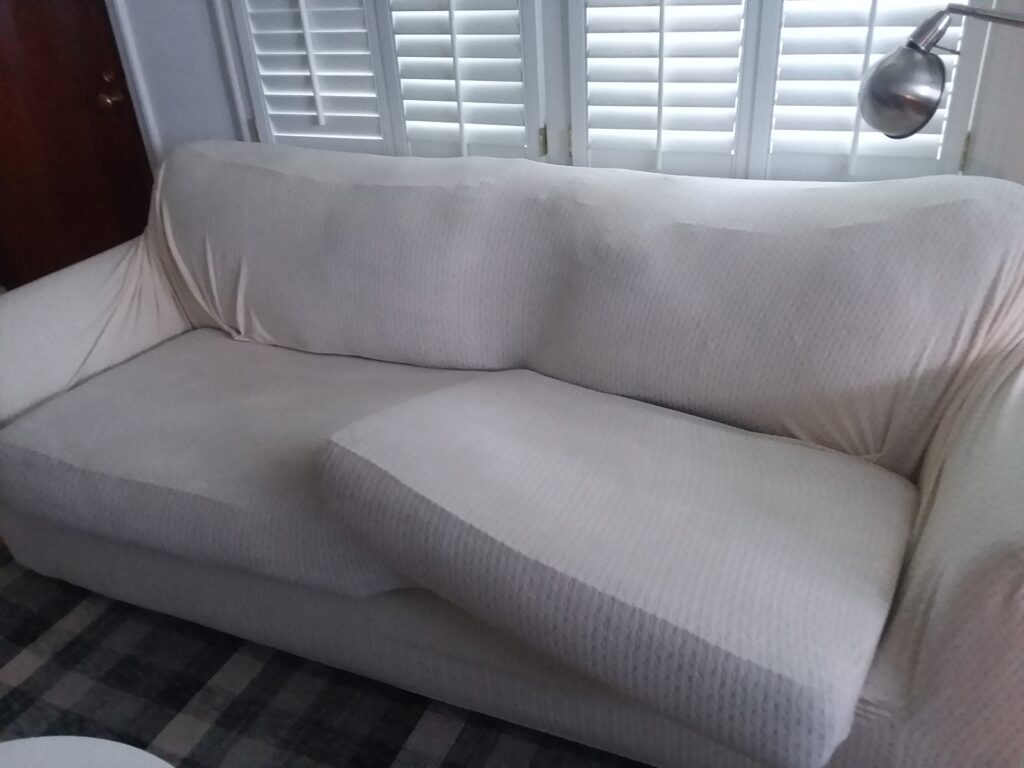 Furniture shopping can be daunting. What I want is not in my price-range. We bought our comfortable sofa in sophisticated black 20 or so years ago. It looked nice in our Houston house with its large living room drenched in bright French-door sunlight. Here it looks like an overstuffed mushroom in the front hallway of a family of ants. The dog likes to sit on top of it to look out the windows. I covered it with a slipcover in a cream color and covered that with a sheet. Now it looks as if we sleep in the living room.
The couch is in good shape. It has endured years of our lounging and fort-making. It desperately needs to be updated and downsized to match its new environment. In the spirit of curiosity, I ripped the fabric along a seam at the top of it and fished around inside the cushion to see if I could remove the excess stuffing in my effort to streamline its look. I could. But it was messy, fiber particles of unknown manufacture hung in the air. I'd have to wear the respiratory protective gear we reserve for grocery shopping, etc. in order to continue with this procedure. I pulled some more stuffing out and put it in a bag, then vacuumed the surrounding area. I wrestled the slip cover back on and threw a clean sheet over it. Now it looks like someone pulled a bunch of stuffing out of it—there's a distinctive dent.
My next best solution is to call an upholsterer. This appeals to me as I could get less stuffing and a fabric both stylish and durable. Once I get a quote for reupholstering, I can decide if that will be the route we go or drag the damn thing out to the back porch for an old-fashioned sofa reducing hoedown. At least it won't be some cheap crap made in China that falls apart after a couple of years.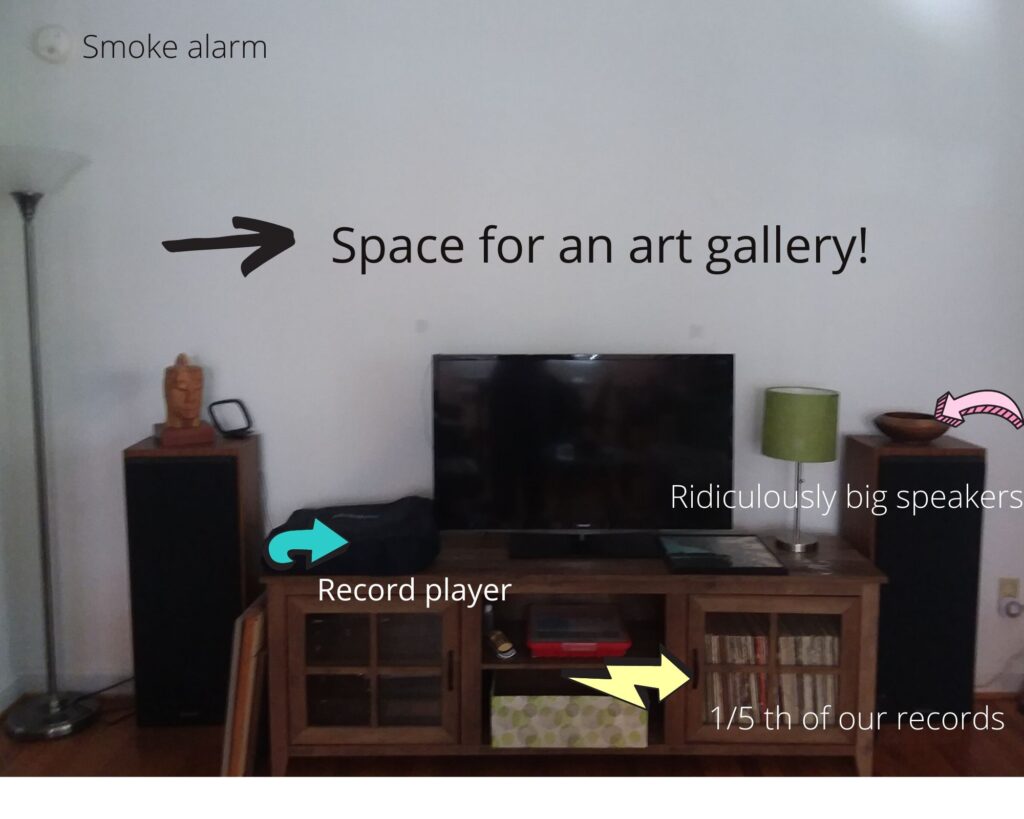 I already went the cheap crap made in China route with the TV stand.  We shopped in just about every furniture store in Asheville, from inexpensive to over-the-top for both a TV stand and a small dining room table.  Nothing we saw satisfied us.  I finally gave in and shopped online for the TV stand.  Part of it is made of wood.  I'm still judging myself over this purchase, but we could not continue with our decorating scheme until we found the right stand to house not only our TV, but our archaic stereo equipment as well.  We have records and CDs and two giant speakers we needed to accommodate.  When the stand falls apart, we will have learned our lesson.  I hoped we saved big because we may be either making our own dining table or having it custom built. 
I shop judiciously. Thrift shops are great for this. There are a few large entities around here where household goods are sold along with salvage. Also, one should shop around for craftsmen/women with tools and skills in case something can be amended, whittled down or sawed in half to personal specifications.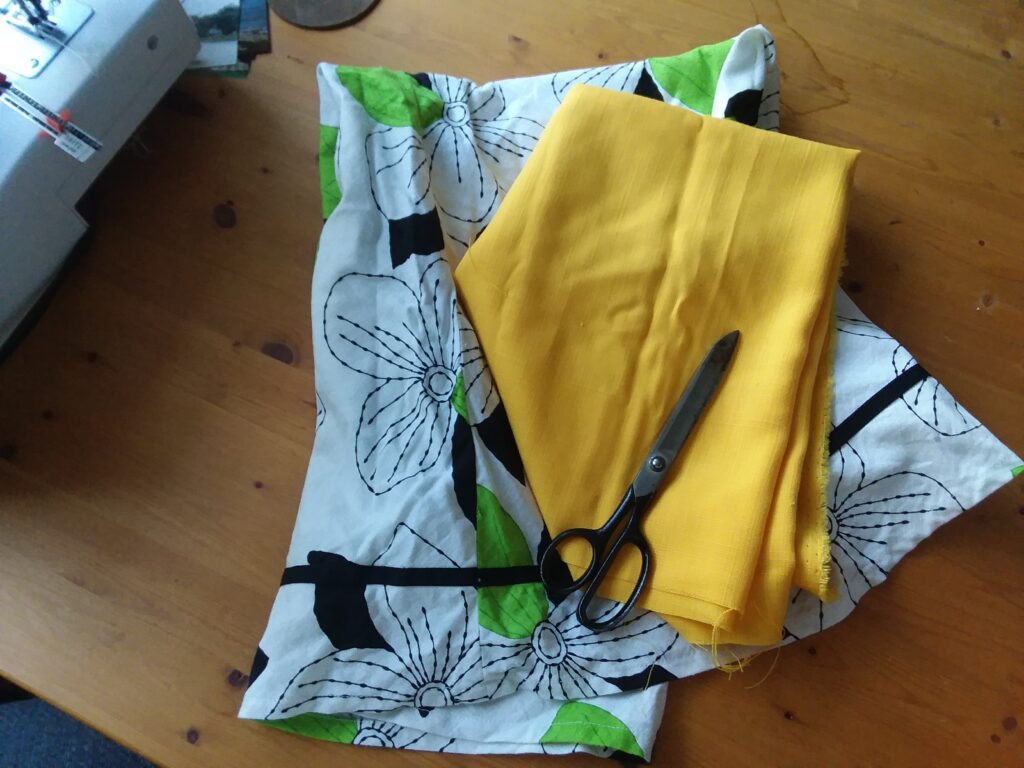 A sewing machine comes in handy. I have bought fabric at Goodwill that used to be one thing that I made into something else. Curtains and shades require the most basic of sewing techniques. That $175 pillow for the couch can be made for $20 with a quick trip to the fabric store and some straight-line sewing. The sewing lines don't have to be perfectly straight, and I know where to get some good stuffing! To date, our food budget has remained intact!
I estimate my living room/dining room re-do will be complete by year's end.  We still have doors to paint, plants to coax along in pots, which I will pretty-up with all that extra paint, and artwork to frame and place on our gallery wall.  Stop by some time next year so we can boast about our long-term accomplishments.   And always remember rule #1.
It's a process,
Cheryl
Guest Editor Anne has a lovely home in the hills and knows a thing or two about style and good taste. I'm willing to bet she has never un-stuffed a sofa.