:::::::::::::::::::::::::::::::::::::::::::::::::::::::: ~~~~~ ::::::::::::::::::::::::::::::::::::::::::::::::::::::::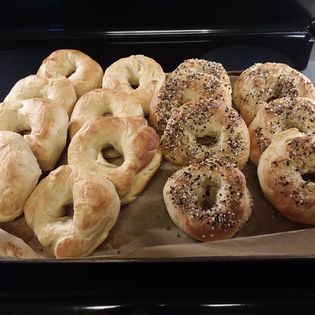 Friends contacted us the week before Christmas to let us know they would like to stop by the Hobbit House on their way from one destination to another. We were delighted. We visited them during the summer in a similar scenario. I made bagels and my husband dashed off to the local grocery store to pick up some cream cheese and other accompaniments. My bagel recipe makes 16 bagels, which is always way too many. I siphoned off half and wrapped them up to stow in the freezer. We were ready. I even made my favorite tomatillo jam, which is always a good reason to use up those late summer tomatillos taking up room in the freezer.
It was one of those nice comfortable winter afternoons just a couple of days before that period in which our mountain home was encased in a frozen wasteland. We planned to light the fire pit in the yard and provide comfy chairs and blankets. I stashed a few accessories nearby in case a hat or scarf might be needed for extra comfort. While awaiting the arrival of our friends, I played around in the kitchen, preparing parts of our own Christmas feast just a few days away. I was ready to offer our guests a light repast sufficient to stoke up enough travel energy to continue their trip, along with a nice hot cup of tea to warm their insides. My husband readied his recent stash of homebrew and purchased libations. I reminded him our guests were stopping by in the middle of a day of driving. He acknowledged the possibility they would not want an alcoholic beverage and then went out to the back yard to start a bonfire in the pit.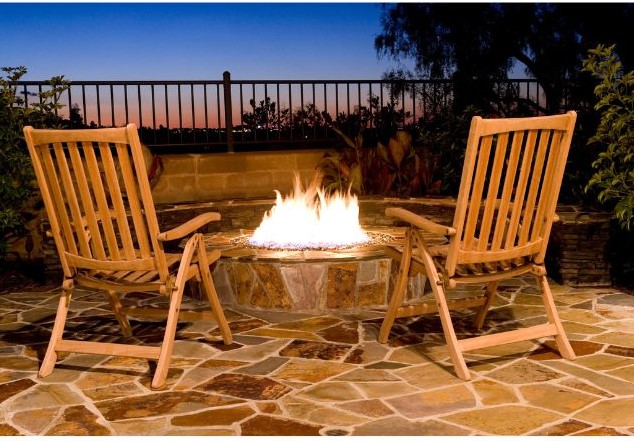 Our friends arrived in the afternoon and confessed they had been nibbling in the car during their drive. I made tea and settled in for conversation and catching up. It was a delightful visit. Before their departure, we made plans to plan a little vacation together somewhere agreeable to both parties. We saw them off and returned inside to wash the tea cups and occasionally run out to monitor the fire while it burned down to coals and went out. Eight bagels sat in the official bagel container mocking me for making so many of them. I considered tossing a few more into the freezer, then decided the occupants of this household were up to the challenge of devouring every bagel before green fuzzies started to grow. We did. We enjoyed them so much, I brought out the bagel bag from the freezer to thaw so that we would have enough to last us beyond the Christmas weekend and use up the remaining cream cheese. Then the toaster oven died. I don't know how you take your bagel, but mine must be sliced in two and warmed with a slightly crusty top (the inside) in which to nestle some cream cheese and other tasty toppings. The death of our toaster oven, though not a huge disaster in the grander scheme of things, created something of a stir. Bagels were at stake.
We bought that toaster oven after we moved here four years ago. We brought the exact same model of toaster oven from Texas. That one had crapped out too. We were toaster-less in a house full of bagels! Trying to toast a bagel in the oven seemed ridiculous to us. I tried microwaving half a bagel to eat with my tea. I do not recommend this method unless you like extra chewiness and have very strong teeth. I next considered frying the sliced bagel in a pan on the stove top. It would have the consistency of a grilled cheese sandwich. I rejected this idea as sacrilege. Fried bagels? It might work, but if I'm going to dirty a pan, I might as well have an actual grilled cheese sandwich.
To say that big city living had spoiled us, convenience-wise, is so accurate a description we cringe when we give it too much thought. We needed a toaster–an emergency toaster to handle all those patiently waiting bagels and aging cream cheese. This was not an easy Amazon fix, it would have to be purchased in an actual store. In Houston, our options were endless. We lived close to at least three big box stores and a few kitchen shops (think Williams-Sonoma and the like) which could handily sell us a decent toaster. We scoured the store-locating info in our brains for a nearby solution in our West Asheville neighborhood. Does Lowe's sell small kitchen appliances? How about Tuesday Morning? Would we have to drive…gasp..to the other side of town during the post-Christmas sales to find a toaster? For those of you not familiar with Asheville, the other side of town is a 15 minute drive. As I said, so spoiled.
We decided to try our luck with Tuesday Morning. It's a discount store for home goods, so we thought our chances were pretty good and worth the effort of the two-mile drive. On the way, we passed the now-defunct Kmart, which closed shortly after we moved into our tiny abode. Fresh lamentations poured forth for the loss of this resource for cheap stuff readily available just a mile from home. At Tuesday Morning we bought a drainer for our sink and a shower rack meant to organize our bathing accoutrement, but they did not have toasters, nor any other small kitchen appliances. Damn it, that meant Lowe's, which was in the opposite direction from our house, with no guarantee there would be any toasters available. As we drove toward that possibility, we remembered Ace Hardware, which is just outside our neighborhood at the juncture of the two main roads which define our little corner of West Asheville.
We have many fond memories of Ace Hardware since there was one close to our home in Houston. It's a hardware store, yet not completely a hardware store. It's one of those nouveau-chic hardware stores which carry a tiny bit of just about everything one might need for the home. I've even bought distilled water there when I couldn't find it anywhere else (in my neighborhood, mind you). If they carry something you need, there will be exactly two of them on their sleek, densely-packed shelves. I imagine a system that tracks when you buy a toaster and automatically contacts a supplier in China to immediately ship another to take its place.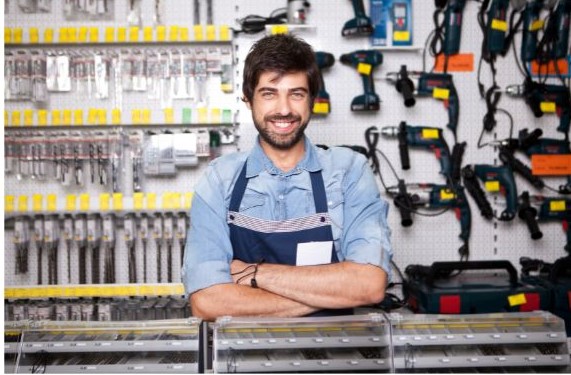 When we entered the store, we were greeted by our helpful hardware woman. Compare this strategy to Lowe's where you might roam around for days not finding what you want until you locate all the components you need to build your own toaster and when the friendly check-out staffer asks what you're building, you could quip that you're making a bomb, or just say toaster, and that checker will helpfully tell you that bombs and toasters on are aisle 5 next to the shovels. Having someone ask me what I'm shopping for today as I walk in the door saves everyone a lot of time and money. For instance, I once went into Ace Hardware to buy a new faucet for my kitchen sink and when I explained the situation to the guy who greeted me, he led me to the faucets, took one out of its box and proceeded to show me how to fix mine for a $6 piece of hardware. I might have only spent $6, but why would my next visit be to Lowe's or Home Depot when this dude had clearly established himself as my hero, giving me plenty of incentive to return to buy stuff that cost more at this glitzy hardware store than in the caverns of lost homeowners.
We informed our Ace employee/greeter that we had a toaster emergency and required a simple, over-priced toaster to relieve us of our bagel baggage. She obliged with a swift trip to the small kitchen appliance aisle, graciously directing our attention to a Proctor-Silex model of simplest design. We were charmed. And relieved. It was the only two-holer left on the shelf and we were grateful there had been no other toaster shoppers roaming the hood that day. We brought it home and set it up. It was dwarfed by the space left abandoned by the previous toaster oven. Even kind of pathetic, like a baby standing in a bowling alley. We tossed the directions from its box and plugged it in. It was a tiny black box with an umbilical cord snaking into the wall outlet. We were eager to put its puny workings to the test.
I immediately distrusted it. With a toaster oven you can look through that convenient little window to monitor the doneness of your toasting goodies. The last time I used an actual old-fashioned toaster had been at the breakfast bar of the Quality Inn off the highway in Connecticut. That one seemed determined to burn my toast to a shiny black sheen, and emitted the smell of a day-old house fire. With the new machine, I made numerous attempts to pull up on the little bar that transports bread downward into the toasting mechanism. The little bugger wouldn't return my bagel back to the surface for my inspection. Then I found an over-ride button (aka the one that allows you to pop up your bread before the toaster setting allows it), and made several observational interventions to make sure my bagel was not charring. I abandoned the toaster vigil by the next day when I was busy cooking and forgot all about the bagel I was preparing for my tea. It came out just right, much like the fussed-over previous day's toasting. The unattended yet desired outcome promoted some faith in the little appliance that could.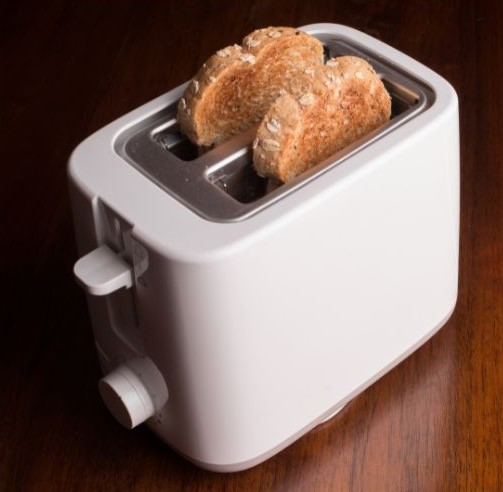 Sadly, during our quest for a cheap but quick fix, we lost one bagel to green fuzziness. We salvaged the remaining few by popping the official bagel container into the refrigerator. I'll soon be ready to make another slew of our favorite baked goods and hope that we remember to buy the cream cheese for this complex coordinated effort at snacking. We are currently considering buying another toaster oven and keeping the "baby" just for future toasting emergencies. At the moment no one has the energy to work out the details or go online for a lengthy toaster oven hunt. Maybe we'll look for one the next time we find ourselves in the vicinity of a Williams Sonoma and rely on our petite toaster to see us through til spring. Peace has, at last, returned to the tiny kingdom on the hill.
Cheers to you in the new year,
Cheryl
Check out the quote of the week in the menu above! You get a bonus quote this week.