Tee's Review: I would come over to your back porch ANYTIME to eat your baked goods!
]]]]]]]]]]]]]]]]]]]]]]]]]]]]]]]]]]]]]]]]]]][[[[[[[[[[[[[[[[[[[[[[[[[[[[[[[[[[
We've been eating like royalty since the pandemic started.  That is, if royalty was into vegetarian pad thai, homemade bread, anything that can be made with tomatoes, is complicated or takes a long time to make.  The lack of daily commute to my downtown office space has left me with extra time on my hands for explorations in the kitchen.  I rummaged around in my vegan cookbook collection to find those dishes I had never tried to make due to time constraints.  Ramen, for instance.  It really isn't just noodles with broth after all.  It took me two plus hours to make it the first time.  I'm getting closer to perfection each time I invest an afternoon in creating it.
Then there is baking. Bread. English muffins. Bagels. Bars. Bars are a thing I haven't quite gotten the knack for. I think it's because vegan bars (think lemon, coconut, etc.) are just lacking some ingredient which gives them bar essence. It's probably butter. Then again, many of my vegan cookbooks have ditched white flour for other exotic forms of grains. All nice in their own way, but garbanzo bean flour is best left for chapattis or other simple creations where the taste of chickpeas feels more natural. I still prefer bars from the local bakery over my own.
My neighbor Alex owns a bakery. She seems busy every time I go in there to buy something decadent like brownies or coconut squares. From the front counter I can see the whole operation–ovens and trollies of trays holding baked goods, along with sinks and counters and mixing equipment. Only once have I seen another person working with her in there. I can only assume any help she needs occurs early in the morning when she starts up those ovens and cranks out the cookies and bagels.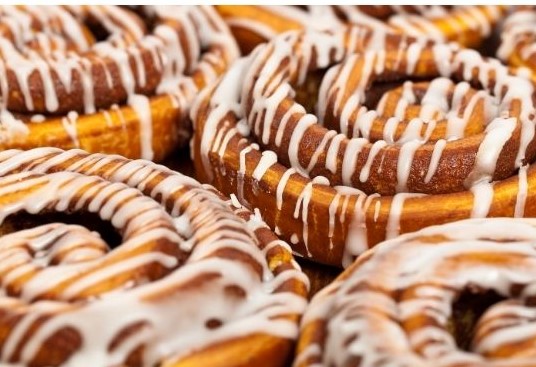 One day I stopped by in the early afternoon for some goodies to serve friends coming over to hang out with us on the deck. Alex was once again alone. Hearing the bell ring on my entry, she turned from her work at a prep station to say she was finishing up a cake order and then she would be available to assist me. It was then that I noticed a small woman quietly sitting on a chair just inside the door. Obviously, it was her cake holding up my service. I turned back to the display case to admire my favorite treats. I noted the afternoon selection was down to a few lonely cookies and bars and buns. I felt a small wiggle of panic that the coconut and lemon bars were already spoken for, were awaiting pickup by some early caller who knew the value of preplanning. I began to worry I would have to go to Aldi's to buy inferior cookies for my guests, due to arrive at my house in a few minutes.
I mulled over purchasing the sad cinnamon buns in the case, unloved at this late hour of the baking day.  There weren't enough of them to suit my needs.  I heard the lady by the door stand up.  Was it her?  Was she the preplanning baked goods purchaser coming over to defend her lemon bars, telling me I was incompetently too late for the best Alex has to offer?  No.  She was rising to meet her cake.  Alex was bringing it out to the counter for presentation, boxing and payment.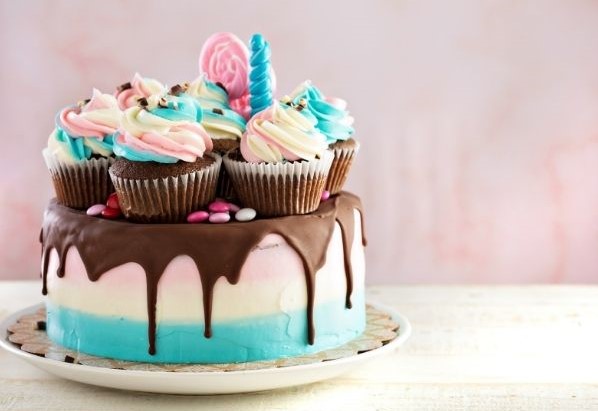 My attention was diverted by the entry of two more women into the tiny bakery. Damn. I made up my mind to buy all the bars left on display just in case my guests were hungry. The newcomers hardly glanced my way. They were drawn to the cake being purchased. My eyes followed theirs to a magnificent work of art sitting on the counter awaiting the assemblage of its box. I looked at Alex, who magically transformed from baker to artist in my eyes. An obvious custom-made design, the cake was a colorful swirl of confectionary delight. The customer seemed very pleased with her purchase, examining its well-crafted details and exclaiming over how perfect it turned out.
From my defensive perch at the lemon bars, I could see a scroll on the top of the cake, along with a bouquet of flowers and other fancy frills. It looked like a celebratory offering for a recent graduate from law school or similar accomplishment.   We all remained spellbound for a few seconds before the exclamations sounded over the fanciness of this concoction.  Alex boxed it up and the quiet lady who had patiently waited for the finishing touches glowed as she paid, then exited the bakery.  Alex turned her attention to me.  I graciously left a couple bars in the dwindling selection of bakery goodies in case someone else needed a last-minute treat for out-of-town guests. 
As I drove home, I marveled at the skills needed to create such a masterpiece as that cake, even at this tiny, neighborhood bakery. Not only did the baker require the knowledge of how to combine ingredients in a way which delivered flavor, but also the skill set of an artist with which to make those creations look appealing to the eye, like a Michelangelo of frosting.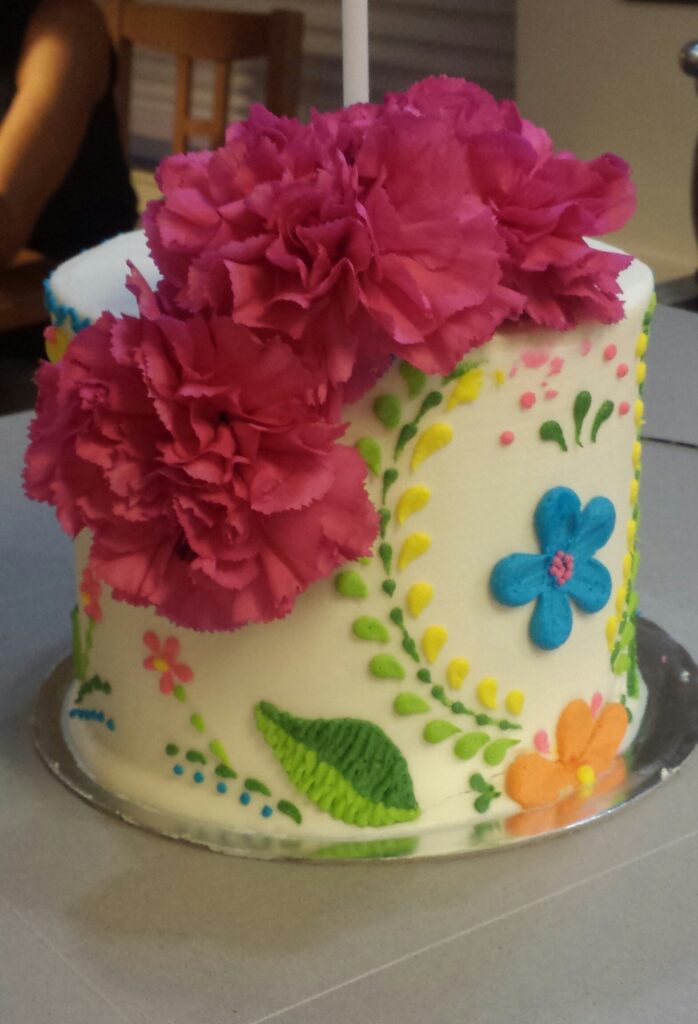 I remembered one birthday cake I dubbed "The Harvey Cake," because my birthday that year came on the eve of Hurricane Harvey.  Erika, the baker of this magnificence was also to be a guest at the party planned for the evening of my birthday.  Most of the party invitees politely notified me of their unwillingness to come out and celebrate on the eve of a massive storm.  Three wonderful people stalwartly showed up.
The cake, however, made it to the party. My usual birthday cakes were of the grocery store-bought variety. This specimen was the most original bedecked birthday cake I ever had; real flowers cascaded down the side into a bright confectionary garden. Sans planned party, my husband and I ate a lot of it. We nibbled on the delicious craftsmanship of this cake during the following days as the storm raged, thunder rumbled and rain came down in torrents, until the electricity went out and the flood water rose and we had to evacuate. I had plenty of time during my exile from home to reflect on cakes past, but I didn't because I was worried that I would find my house filled with flood water when we returned. My cake wonder diminished for a time. (My house was spared; in case you were wondering).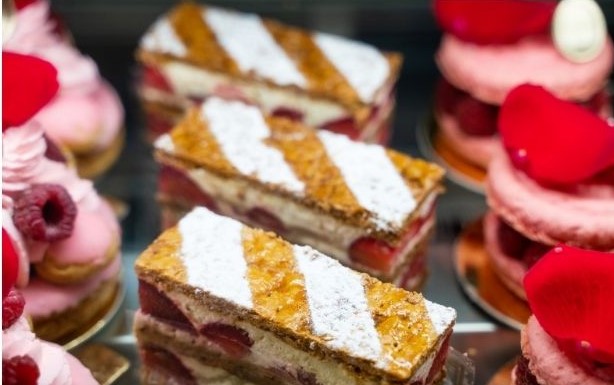 Then one day my husband and I discovered The Great British Baking Show. I'm not sure what lead us to watch such a program. I didn't bake much other than the occasional pie or pan of muffins. My eyes were opened to a whole world of creations which could be baked, had been baked for centuries in continental ovens of yore, as well as currently, in modern home appliances. It was while watching this mouth-watering production of varied baked goods that I learned that "cake" is just a generic term best left to describe the mixes found in boxes marked Betty Crocker.
Chiffon, sponge, pound, angel food, genoise, charlotte. These are just the first few types I found in my online research for types of cake. Many of these have specific ingredients which render its specific classification. But of course, ingredient knowledge is just the beginning. In this baking competition, taste must be accompanied by artistry. Though these competitors were all home bakers, the best had design skills I could never hope to gain through my own kitchen fumblings.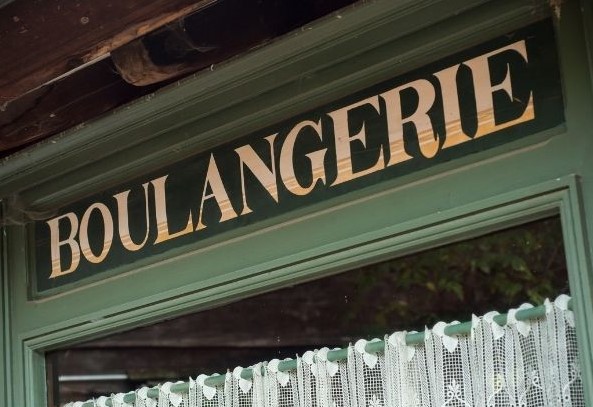 *
Pandemic down-time has given me the space I require to experiment with the fundamentals of baking.  It is well past time to go beyond ordinary bready things into the realm of awe-inspiring concoctions.  My incentive to make impossible creations the likes of neighborhood bakeries and Food Network has recently been stoked by a Christmas gift from my husband.  A French, vegan, baking cookbook.   The thrill is on.  I have Croque-en-Bouche in my sights and an arsenal of swear words to see me through.  Ooh, page 40: Pâte Feuilletée, which is how you say puff pastry in French.  I feel I am ready.  May the pageantry begin.
May we all have our cake in whatever form it takes,
Cheryl
Guest Editor Tee is fond of experimental baking, turning out such classics as Hillbilly Baklava.  We are quite the team in the kitchen and I look forward to the end of the plague so we can make vegan cheese together and maybe even eat it.