M's Review: Nice story of your survival of the hurricane. Although you actually lost nothing material to the storm, the stress and fear forced you out of your home and into a new adventure.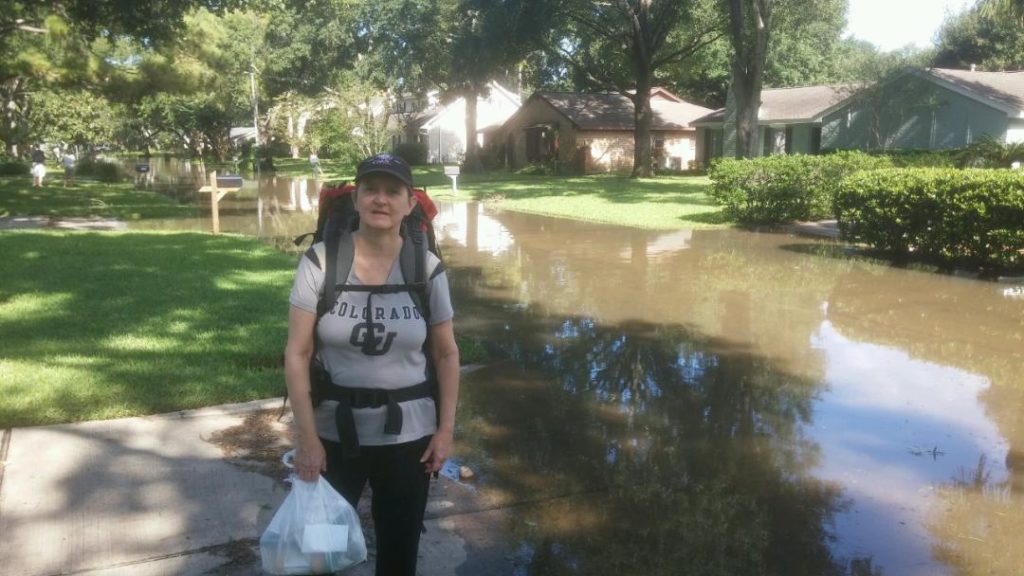 Fire, flood, crime, illness. Any of these disasters could lead you to scraping the black slime formerly known as cilantro from the veggie drawer of your refrigerator. Bringing things back to normal is priority one when life has been knocked in the head with a steel pipe and is still reeling. In our case, my husband and I had to wade through sewer-contaminated flood water to reach the house we had evacuated one week prior to discovering those busy microorganisms feasting on our groceries. After a week, not much resembled food. This was Houston, post Hurricane Harvey, defined by the removal of nasty things. We were the lucky ones. Evacuation to a friend's house may have caused us despair and anxiety, but having to clean out our refrigerator paled in comparison to what many of our neighbors had to deal with.
Hurricane Harvey was a killer who wrote ahead of his impending visit to familiarize us with his charms. High winds that send trees crashing through roofs. Raging flood waters that sweep cars and their humans into the afterlife. Tornadoes that make walls and ceilings vanish in a flash. Power outages that last for weeks. Con-men and looters. Sewerage and toxic chemicals. These are a few of my not-so-favorite things!
We, along with a million of our fellow Houstonians, met at the grocery store and gas station so we could wait in line until midnight to buy standard storm essentials –pleased that we remembered to get toilet paper this time. We bought enough alcohol to last through the apocalypse. We gathered our doodads from the yard (to avoid flying projectiles) and took down the windchimes (to avoid the neighbors knocking on our door during the night to say take down the fucking windchimes). Hatches were battened down. Bathtubs filled with water. Emergency bags packed in case of evacuation. Ready, set, go.
Harvey was not our first meteorological mayhem yet this one was different from the others. Most hurricanes come roaring through in one twenty-four-hour period. Harvey squatted on our patch for four terrifying days of torrential rain, deafening thunder, seizure-inducing lightning and constant tornado warnings, and caused every street that normally floods in Houston to flood, all the streets that don't normally flood to flood, my blood pressure to rise and the voices in my head to scream continuously that we are all going to die. We didn't. But we did run. The officials in charge of important stuff decided to shut down the power and open the dam, purposefully flooding fifteen miles of neighborhoods along the bayou (and the local sewerage plant) in order to ward off evil spirits, get ahead of a potential dam break and grant us a week-long, weeping, teeth-gnashing vacation.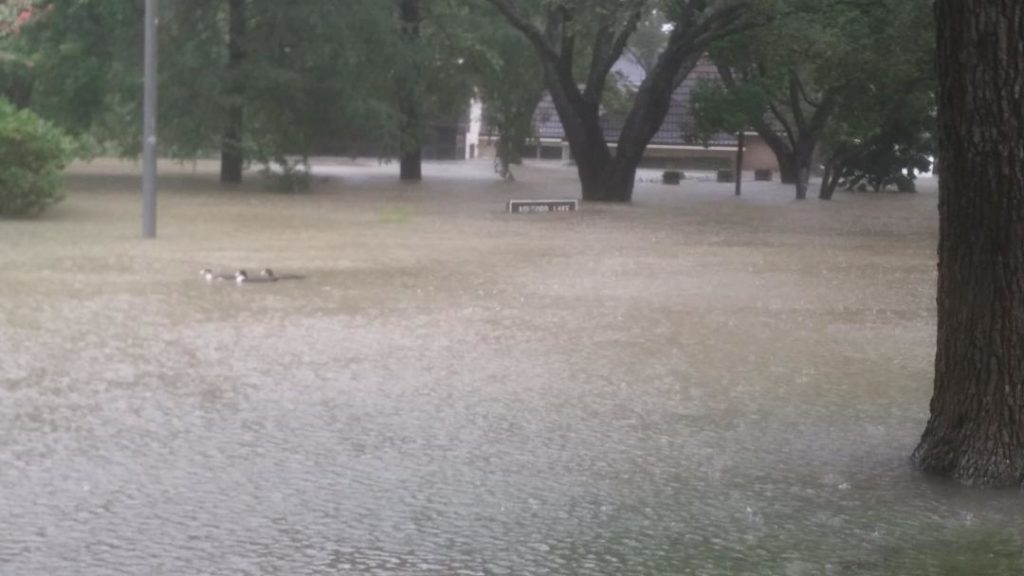 As our friend Ron was on his way to help us evacuate, I stood in my house, electricity down, water rising, contemplating which of my possessions to take with me. Everything seemed important, yet I realized in that moment that none of it really mattered in the grand scheme of things. I decided to let it all go. There came a certain peace with that decision, which granted me the freedom to walk out the door. I grabbed my pillow, my husband grabbed a keg of home-brew. (What? Who knows how long we'll be gone.) Our friend Ron came with his big truck and carted us off to his house just a couple miles down the road, away from our bayou-hugging neighborhood. The generosity of friends Ron and Jennifer and their two comfort dogs kept us properly housed, lovingly fed and reasonably sane for the duration of the crisis.
We used to make fun of our street name, Carriage Hill. Heading for home was always heading up the hill. Such a chore walking up that hill. There never was any hill on this hill. Until the day we walked back through potentially cholera-infested waters to find those waters missed our house by inches. Bless those inches. That hill of inches. No sewerage in that house except what we created and flushed away once permitted to do so by the local authorities. For our neighbors a block away and "down" the hill, there was no celebration. Shit-infused water had crept up the path, knocked on the front door and short-term leased their floors, walls and belongings. Like all bad tenants, flood water left the place a mess.
During the flood, the citizens of the greater Houston area, 4 million of them, pulled together (along with folks from other places) to work toward minimizing the catastrophe. Few people died, but many were rendered homeless and possession-free. While this may be a grand situation should you be preparing for a solo, year-long sacred pilgrimage, it's not so ideal for individuals and families struggling to work and go to school. Personal and community resources were invaluable. If you had any. If you didn't, you were at the mercy of FEMA and the Red Cross. A couple of our elderly neighbors chose to ride out the storm and endure the hardships and hazards of the flood rather than take advantage of the safety of a public shelter. We met them for the first time when they greeted us from their yard as we waded back through the neighborhood to survey the damage.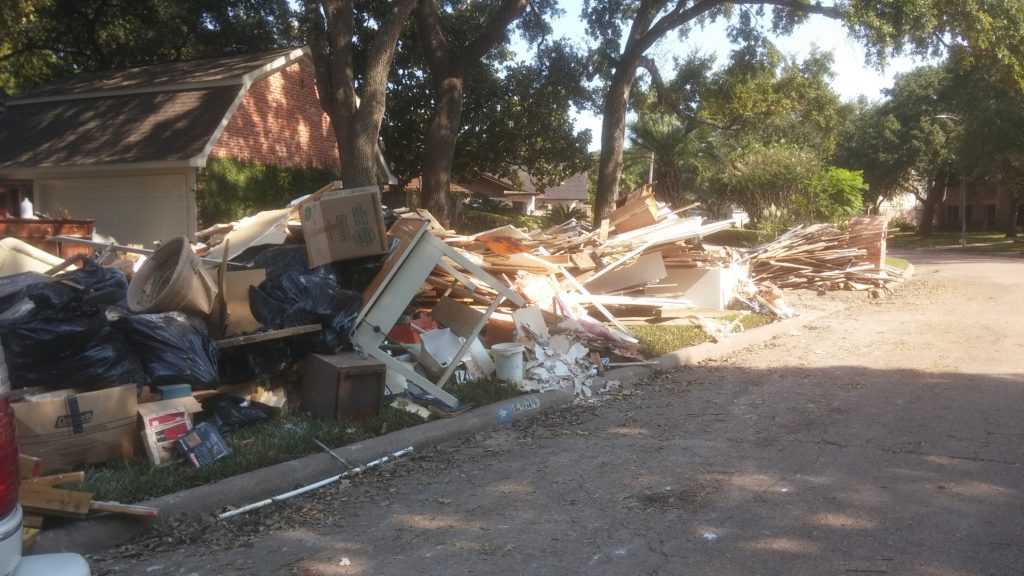 Post flood, all along the streets of our neighborhood, homeowners were ripping out drywall, carpets, and anything else that didn't hold up the roof. I finally got to see the inside of many of my neighbors' houses—in a heap at the curb. Months later, much of it was still out there. Not even the city's heavy trash removal could handle the whole inside of a house when there were so many insides of houses outside of houses. One family at the bottom of the "hill" bought Hazmat suits, salvaged whatever possessions could be sterilized, surveyed the damage to their house, then bulldozed the whole structure. They had another house designated for their retirement home.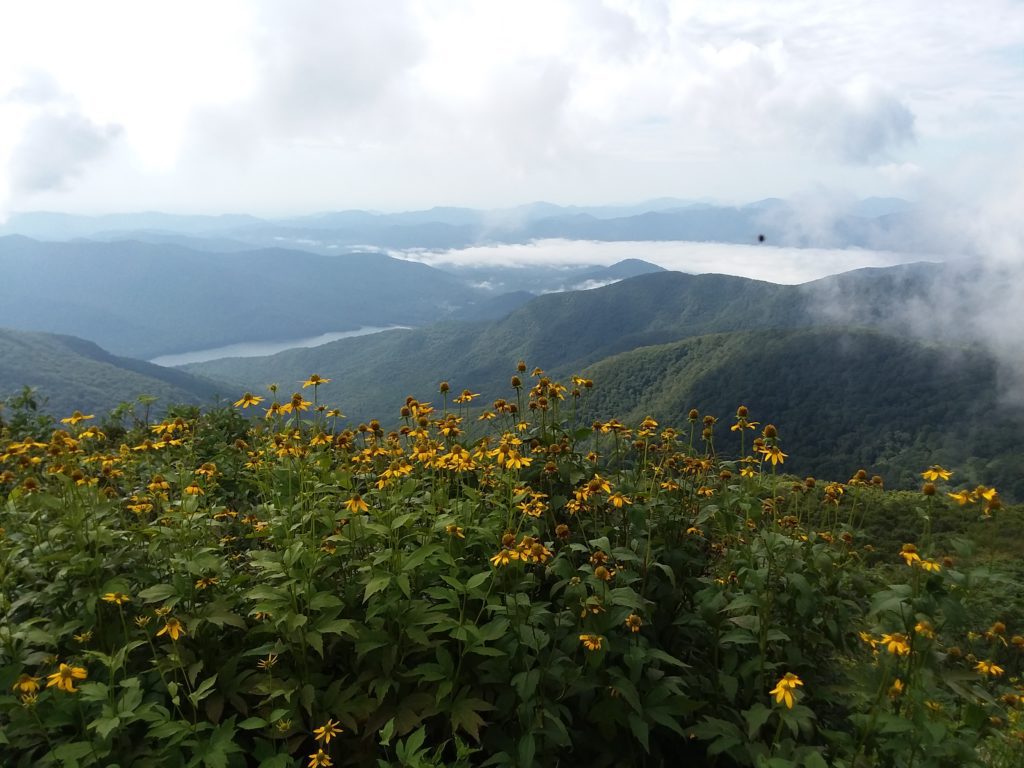 An extraordinary number of people moved away. We were among them. When my husband lost his job a few months later, I asked him (screamed at him) not to look for another one in Houston. We would escape. If I had to face another hurricane or flood, I would be moving directly into a psych ward! I had endured five major storms on the Texas Gulf Coast. That was the magic number for me, the end of the siege, the final push off the cliff. Inevitability swirled around us. We even knew where we wanted to go. A mountain paradise, far from the crushing heat, the frustrating traffic jams and the tropical storm systems.
I became manically driven, possessed by a demon named Let's get the hell out of here. One third of our possessions were donated, sold or trashed (sorry zero-garbage project, priorities have temporarily changed). Updated, painted pretty and staged like it was the Governor's Palace (meaning did not look like a crack house, frat house or recently flooded shack), our house sold in six weeks, which in my frenzied state of mind was five weeks past due. Nevertheless, I considered our realtor, our neighbor whose own house flooded, to be nothing less than heroic for putting up with my bulgy-eyed, sweaty desperation and my husband's constant questions.
Saying goodbye to friends was the most difficult part of the moving adventure. Houston is a fine city, where I lived for forty-two years. We met and married and raised our child there. We made a good living and enjoyed many excellent restaurants as well as local dives along with a diversity of cultural and social events. Though we knew there was an inevitability of leaving our friends behind, the whirlwind activity of our move did not give us enough time to linger at the table to enjoy some leisurely conversation with all of the good people who had enriched our lives.
Eight months after the flood, we loaded up our earthly possessions (still too many) and headed toward Shangri La. Our dreams were coming true. Our dear friends saw us off as we pointed the front of our car north and drove two miles to sit in a line of traffic waiting to get on the beltway in the broiling summer sun. We dreamed of cooler air. That's it. Cooler air.
Always head for higher ground,
Cheryl
M is my tai chi and breakfast burrito buddy. Her editing of my second story was very helpful in teaching me that not everyone understands the stuff that just comes out of my head. She is a superior editor!