Chelsea's Review: This post reminds us that all it takes is more intention behind a few simple words to find the community we so desperately need right now, and maybe the introduction to a new hobby or two.
<><<><><><><><><><><>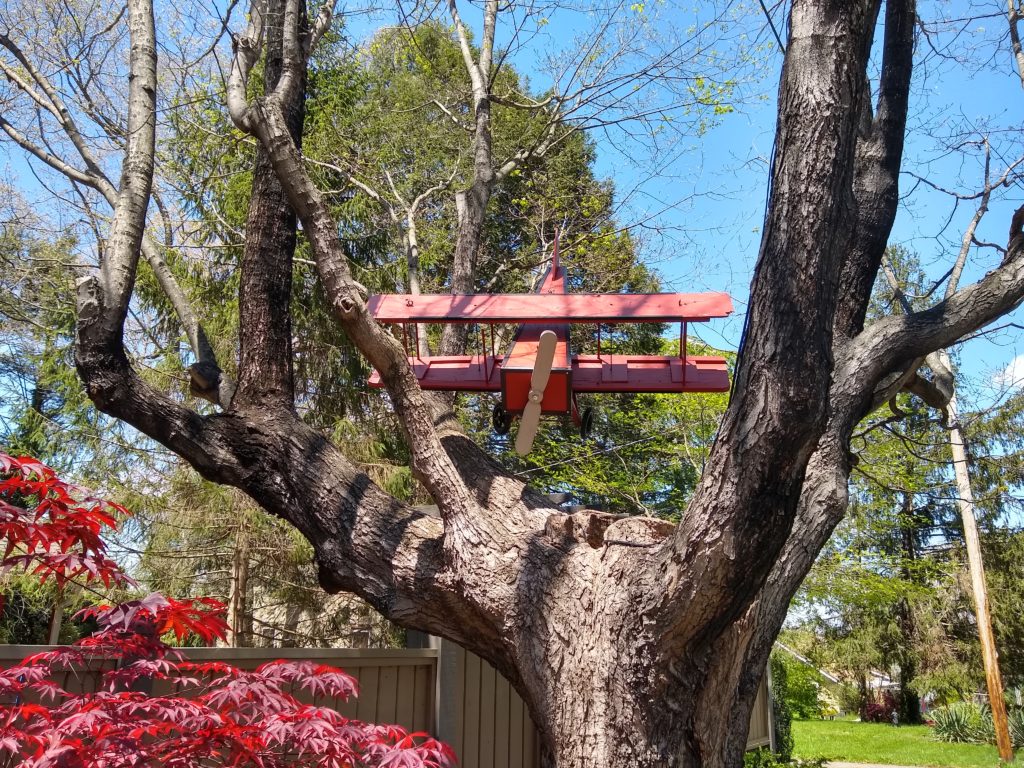 Let's face it. It's been around for a while now. That ubiquitous question that has the appearance of seeking information about your well being. As you walked out of the store and you said "hello" to the person walking in, you most likely got a "hello" back or more likely, the question, "How you doing?" Inevitably the person offering this question just kept walking without a moment's hesitation as you hastily said "good, how are you?" You received no acknowledgement as to the state of your life nor an answer to your own inquiry. The polite stranger was already perusing the aisles, seemingly indifferent to your plight.
Perhaps you are the one who routinely deploys this method of greeting. It has the charm of sounding attentive and friendly. And perhaps it is meant to be. Politeness dictates that we acknowledge one another in some fashion and asking "How you doing?" has the quality of a level of caring that goes beyond "hello." Except, we all know that it doesn't when we are greeting strangers passing by or those sharing space with us for a limited time. Previously, when asked this question, I would smile politely and say "hey" in my usual folksy way. People did not seem to expect much more from me.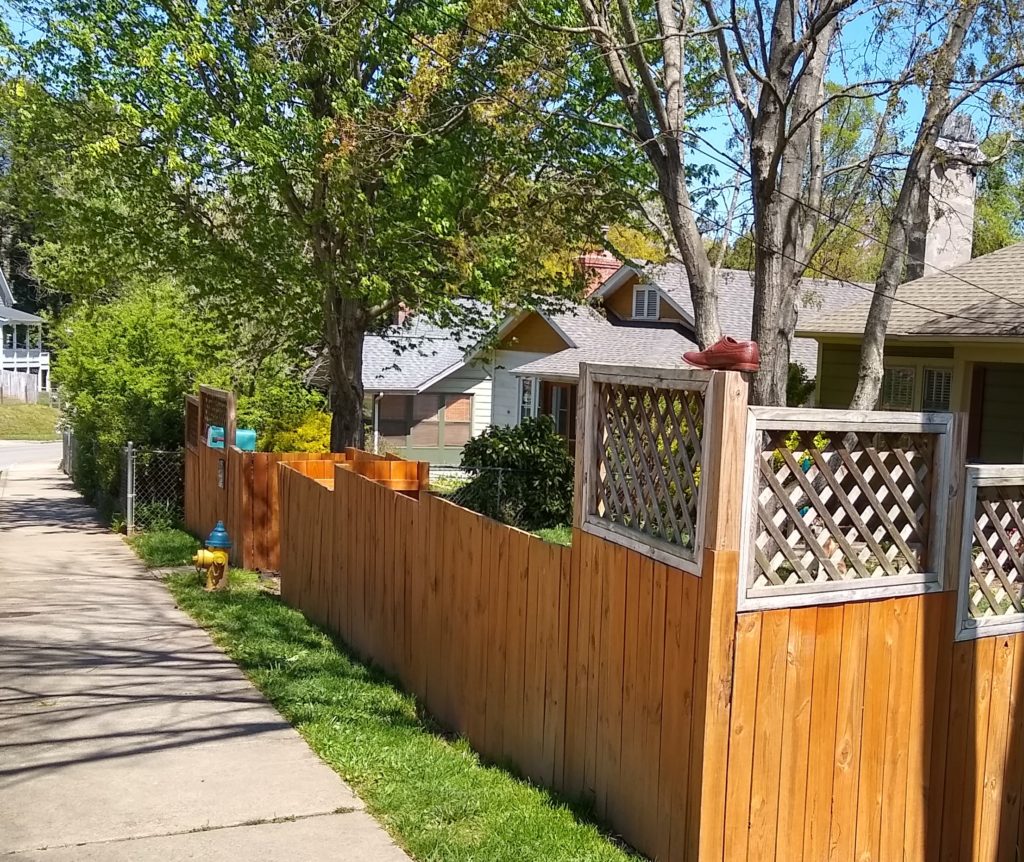 Greetings take on a more personal tone in these days of social distancing. My husband and I don't see many people, so when we do, we are more than averagely solicitous with both the people we know and complete strangers. With strangers we strive for an attitude of genuine curiosity that doesn't come across as scamming home-improvement-huckster talk or just-escaped-from -the-asylum desperation. Everyone knows we have been cooped up; they have been too. This makes intimate conversations with strangers seem more legitimate and not so suspiciously creepy.
Walking in the neighborhood is our new social hour. Since the weather is nice and more people are home, outside working in the garden or walking their dogs, we commune with our neighboring isolationers in a way we would not have in the pre-pandemic days. "How you doing?" has morphed into "How are you holding up?" How are you coping, passing the time, staying healthy, entertaining the kids, reaching out to family, managing in this crazy upside-down life? Most of our neighbors are more than happy to share a few moments of their day with us. A wide stretch of road provides the proper distance with which to have a conversation. We are starved for conversation.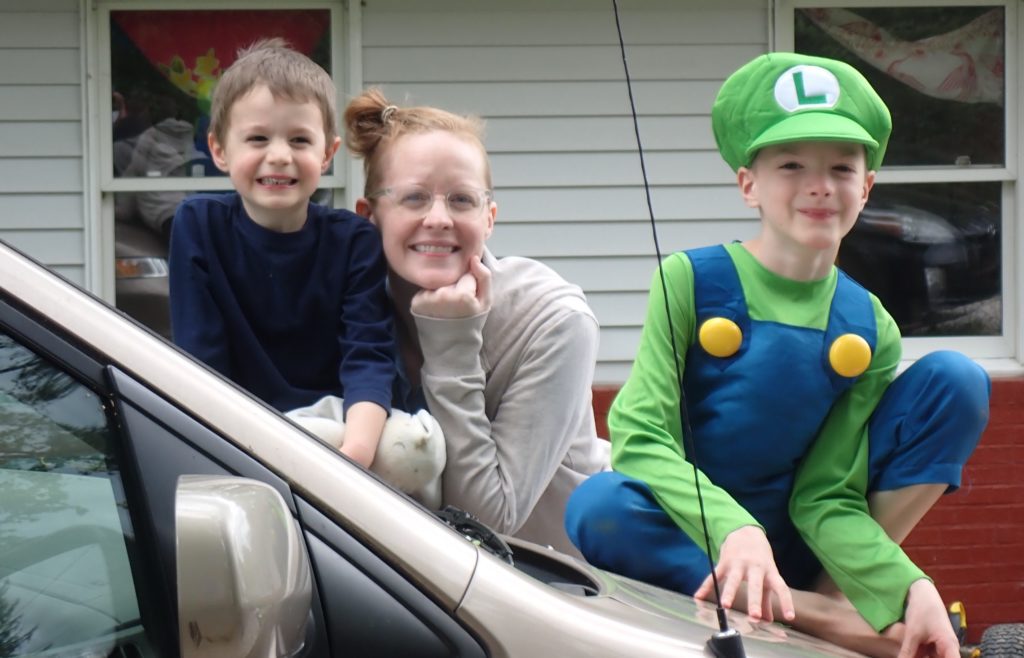 We love when people are outside in their yards doing something as it gives us a lead into a short, appropriate exchange. We met Mario and Luigi last week when we experimented with adding an extra loop to one of our usual walks. They were in their front yard with their mother looking at an overturned garden cart. We stopped and boldly asked what they were doing. We are delighted when unusual moments like this one pop up along our walking paths and strangers are more than agreeable to share their stories with us.
These boys enthusiastically explained that they were tending their young chickens. We peered a bit closer and saw little, bright-feathered birds scrambling around in the dirt underneath the cart, which had open-weave metal sides. No longer baby chicks, the tiny little chickens were fun to watch as they scurried about in their temporary home. We thanked these sweet, chicken-tending brothers, who were so happy to share the details of their days with us. We named them Mario and Luigi, as Luigi was wearing a costume of the character by that name. They seemed to think this was perfectly legit. Luigi's birthday is coming up. He'll be 8. To us, this seems like an enormous accomplishment.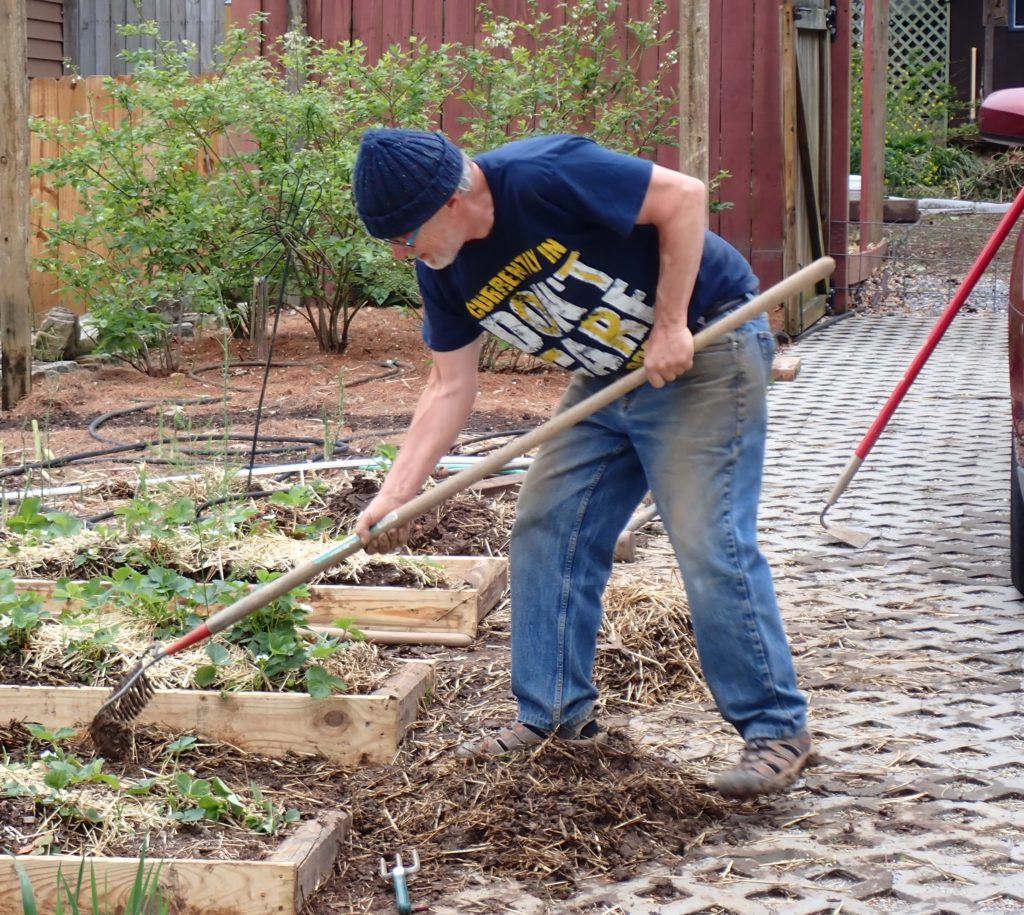 We walk. We stop. We admire the landscaping or the new colors on the house. We say these things to the homeowners when they are there to hear. We talk for a few minutes about new plantings and receive generous gifts of plants to grow in our own garden. The garden expert on our block is having trouble keeping the local thieves off his many strawberry plants. No bears have been recently spotted on our streets, so we suspect the squirrel population. Judging by the number of new gardens going in, the squirrels of West Asheville will be enormous, terrifying beasts by July.
—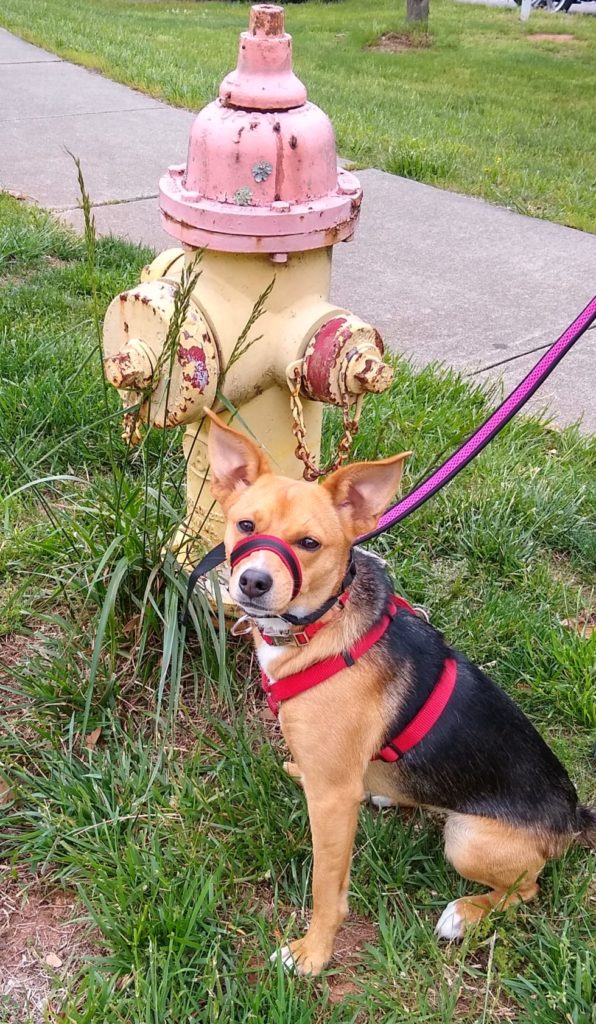 We discuss the poor behavior of our dog, who barks and pulls to be allowed closer, with people we pass in the street. Dog people stop to visit and commiserate. Cat people scurry down the street to get away from us. Conversations are more difficult to initiate when your dog is acting like a cross between Cujo and Hannibal Lecter!
—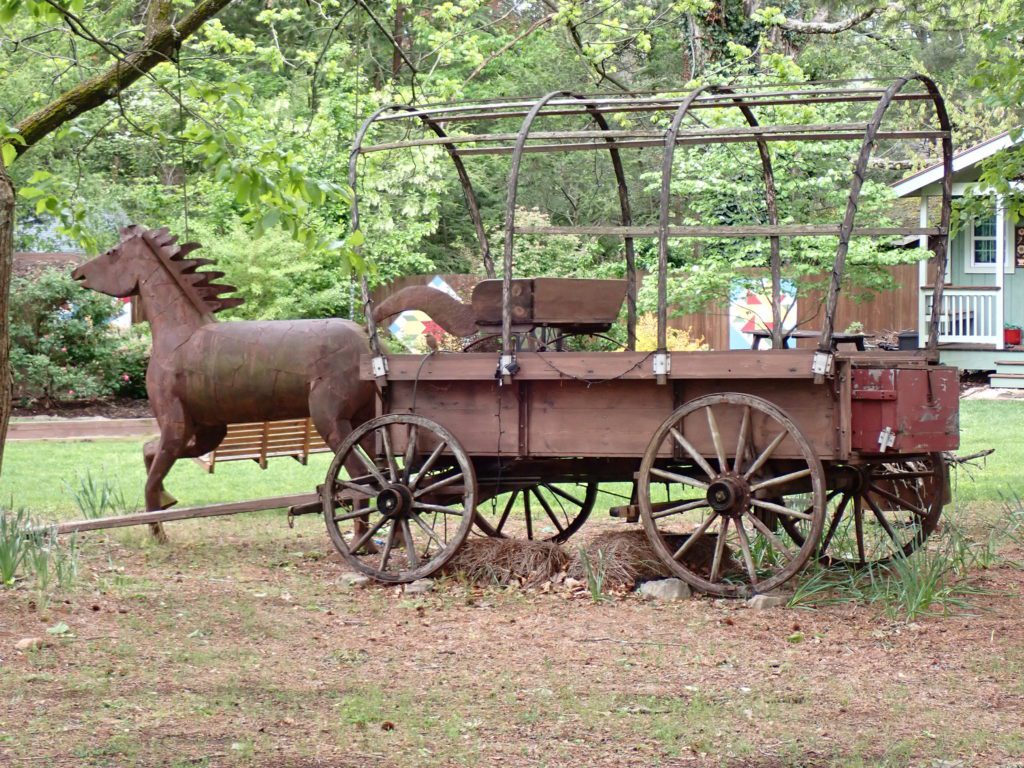 One of the great joys of living in West Asheville is the delightful presence of artistic expression devoted to private homes, which runs the gamut from ornate, customized gates to airplanes in trees. In a fashion which can only be described as whimsical, we have seen well-decorated little free libraries, a shoe on a fence, a gardening tool sculpture, an iron horse and wagon (life size!) along with various wind chimes, doodads and even Christmas decorations. The horse and wagon sculpture, by virtue of its size and craftsmanship, is an amazing sight. It sits behind one of those well-crafted gates, on a generous lawn surrounding a log cabin. We have never encountered a homeowner in the yard, so we make up stories about the artist who (maybe) lives there and produces metal renderings of Americana for public parks and bustling estates. Everyone who walks here knows this spectacular landmark.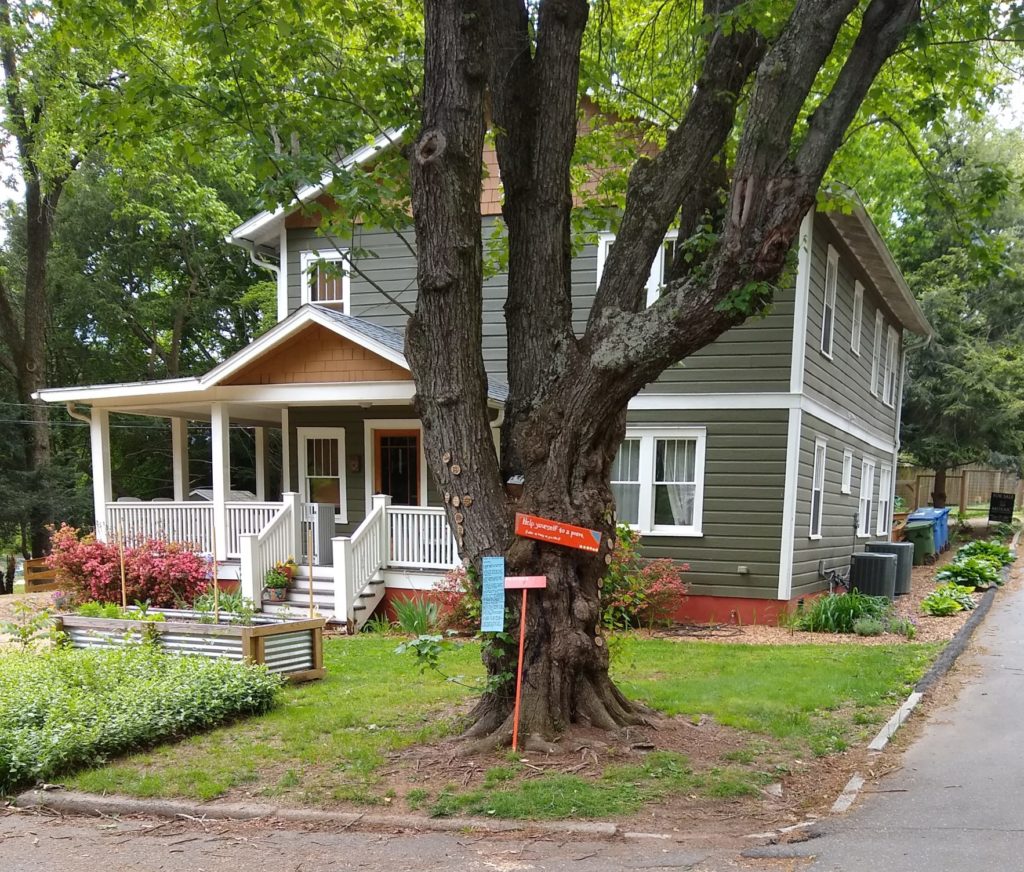 Our favorite display is The Poetree. We have not been lucky enough to meet the genius behind this offering to the public–one may actually take a poem from the tree. I always want to go past in the hopes of sighting someone with the fascinating story of this tree's planting.
~~~~~~~~~~~~~~~~~~~~~~~~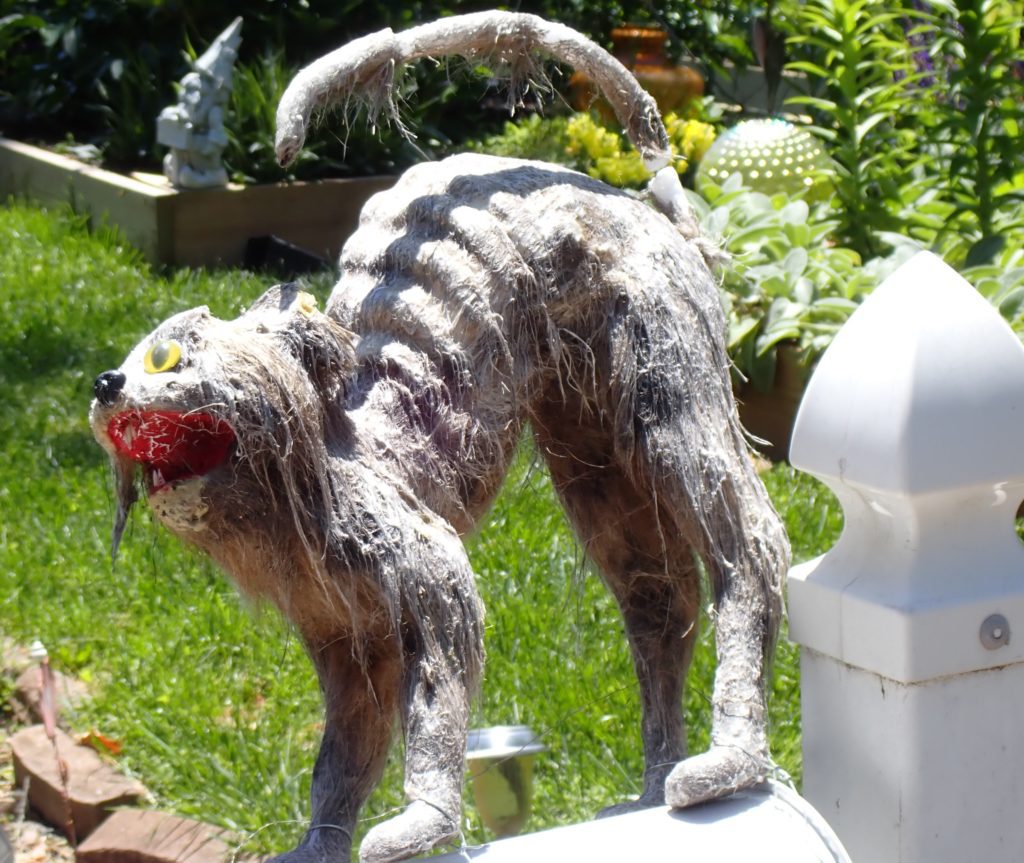 A house and yard constitute an open gallery with which to display a cornucopia of creativity. If we are lucky enough to catch the artist out in the open, we greet them with appreciation for their contribution to our daily walks and always, always hope for the story behind the artistic display. We met "Scary Cat" lady when she greeted us from her front lawn as we were passing by. She made the cat, a felted, weather-worn addition to the top of her mailbox, years ago as a Halloween decoration. So many of the neighborhood kids liked it that she decided to dig it out of storage and let it entertain the youngsters who were more often playing outside these days. I asked if I could take its picture, delighted with the permission of a neighbor who was no longer a stranger.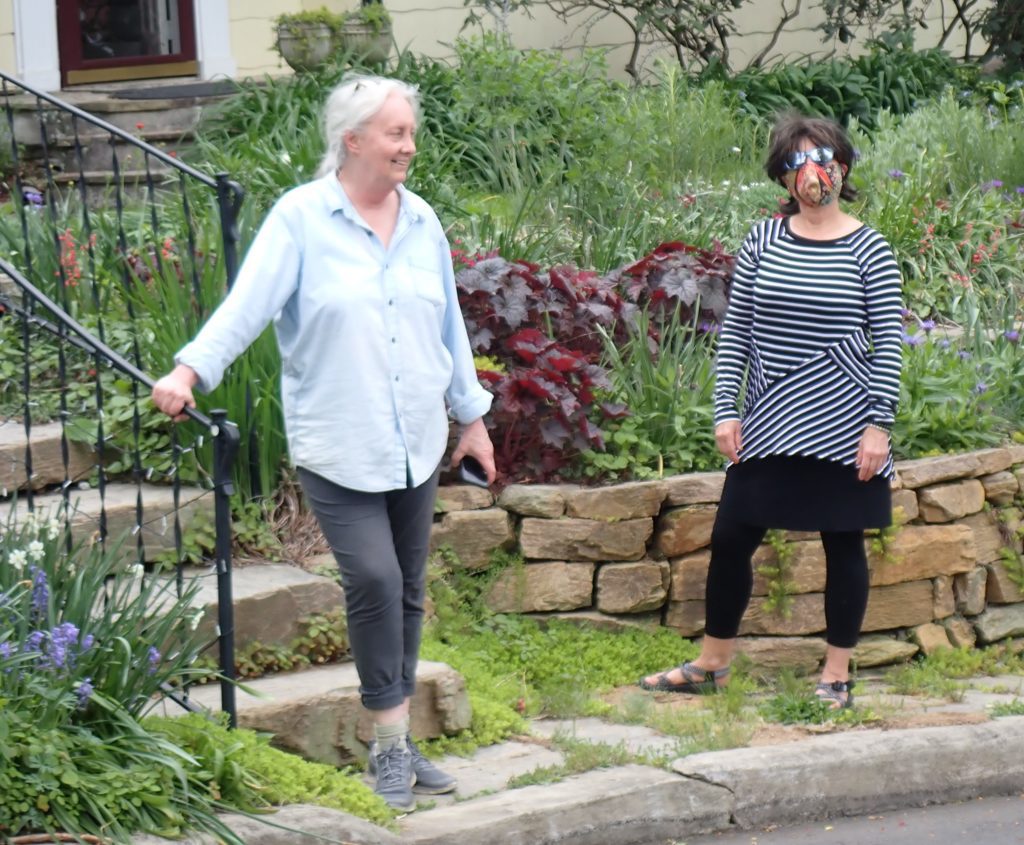 Conversations with the neighbors we know are something I also seek as often as possible. If I desire a verbal exchange, I merely need to perch on my front steps or porch for a short while. People are constantly passing by, is what my dog tells me. If I actually want to talk for a while, my dog needs to be comfortably ensconced in her crate or else she gets all the attention and the conversations steer toward the unreasonable nature of dogs. While I have no problem discussing the dog, she needs to be elsewhere so that I can hear and absorb what my neighbors are saying about dog training. The dog disagrees.
Grocery shopping and cooking are also trendy topics. Where did this person find toilet paper? When will we find organic, unbleached flour back on the local shelves? What exactly is in an authentic gumbo, anyway? Have you ever made vegan cheese? The list goes on infinitely because, quite frankly, we seem to be spending large amounts of time cooking. Asking the neighbor "How you doing?' may result in a lesson on how to make kimchi or, if you are really lucky, a splendidly detailed class in bagel making.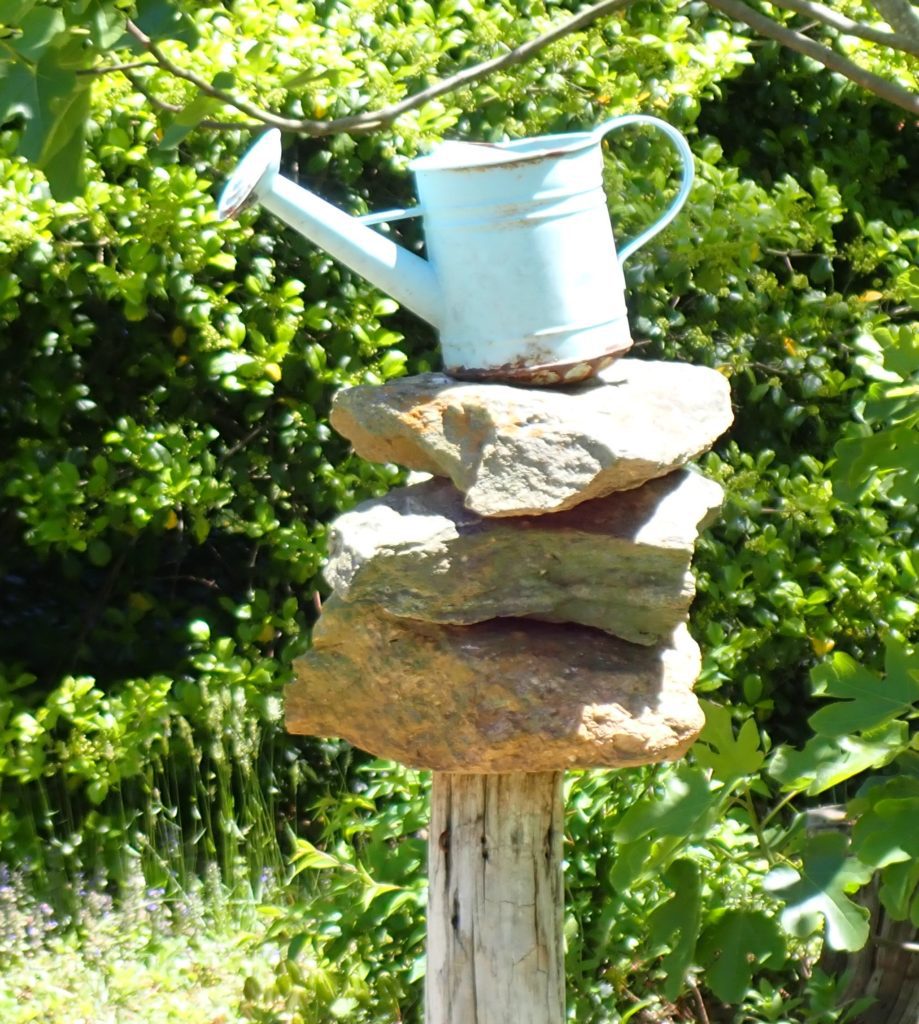 In asking this innocuous question, I'm discovering a world rich in entertainment and learning. After ten weeks of staying home, people are going beyond the standard answer of "fine" or "hanging in there" to share their worldly knowledge on a multitude of subjects. So, next time someone asks "How you Doing?" answer by saying what you're doing, you know, if it's legal and not too….um, personal. On the street. Six feet between. Speak. Listen. Learn. You will be making a deeper connection and sharing the love we all desperately need right now.
See ya out there,
Cheryl
Guest Editor Chelsea understands the necessity of community and how to create opportunities for connections after a disaster, having experienced a few hurricanes and floods. Through her editing, she helps me to reach a little further into the story.