I hope you enjoy this story by guest writer Shelly Mozlin. Shelly is a member of the Asheville Women Writers Cooperative and likes weird stuff. She's an avid cyclist who never gets lost in the woods or in any alternate universe…unless she wants to.
========== # ==========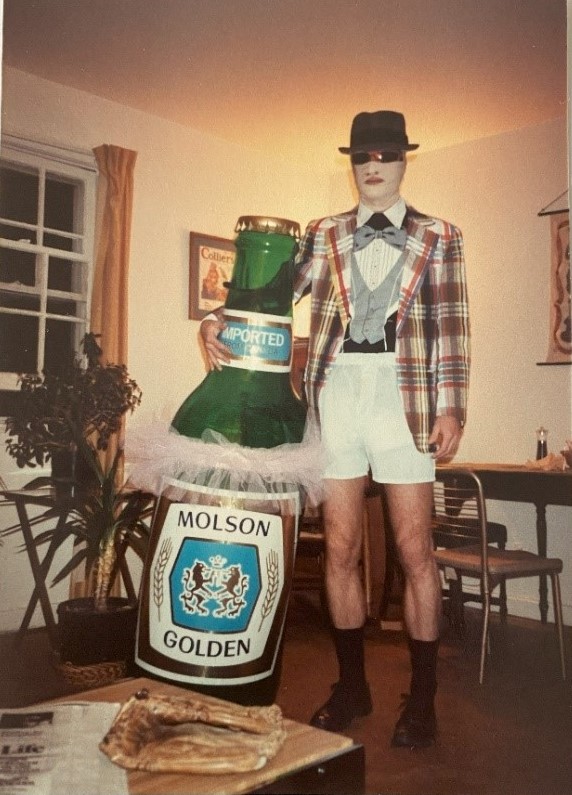 When was the last time a friend asked you, "remember when….?" And you were supposed to conjure up a memory of a long ago event—a party perhaps. When you admitted that you really don't remember, did your friend fill in all the blanks with the precision of a journalist—who, what, when, where, and why? The only reason you thought, yea, maybe I do remember, was because the details your friend has thrown at you made your presence at that moment in time undeniable. Then you probably began to worry about this lapse in your memory as a symptom of cognitive decline. I have certainly had those moments, but friends, after seeing the movie Everything Everywhere All at Once, I now know that this can all be explained by the Multiverse. It is a real thing. And when you get to be my age, the number of nodal points and bifurcations in the time-space continuum are practically infinite. I have been flung and tossed through millions of universes with enough speed and frequency to cause memory bank whiplash. Of course I cannot remember all those parties!
I recently had to explain this phenomenon to a few friends when I unearthed these photos from Halloween 1984. The key players in this story are Alan, Chris and Evelyn (the names have not been changed to protect the innocent because no one is innocent). If you look closely at the props between his legs, you will see that Alan is the Nutcracker. Chris is the Invisible Man. Evelyn is the host of this shindig. Although she is not in either photo, her parents' home is. Just for the record, the giant bottle of Molson Golden Ale is wearing a pink tutu.
I texted these photos to all 3 players without any explanation. I am sure I am not the only person my age who loves to send as well as receive these tiny slices of our lives from long ago, you know, when we were young. All three responded almost immediately.
Alan: Interesting photo. When was it taken? I recognize the sneakers, but I have no recollection of this party.
Chris: Wow! When was this taken? I must admit I owned that jacket, but I don't remember this party.
Evelyn: Who are these people and why are they in my house? Did I have a Halloween party?
So there you have it. If not for the photographic evidence, this party never happened. It can only be explained by the Multiverse. It was my reality. I remember being there and I took the photos. But clearly Alan, Chris and Evelyn were simultaneously spinning around in an alternate universe, when they crash landed in White Plains NY, just long enough to leave their presence on the film. It really is just like the movie—Everything Everywhere All at Once–except in this Multiverse, there were no hotdog fingers, at least none that made it into these photos. Instead we snagged a Beer Bottle Ballerina.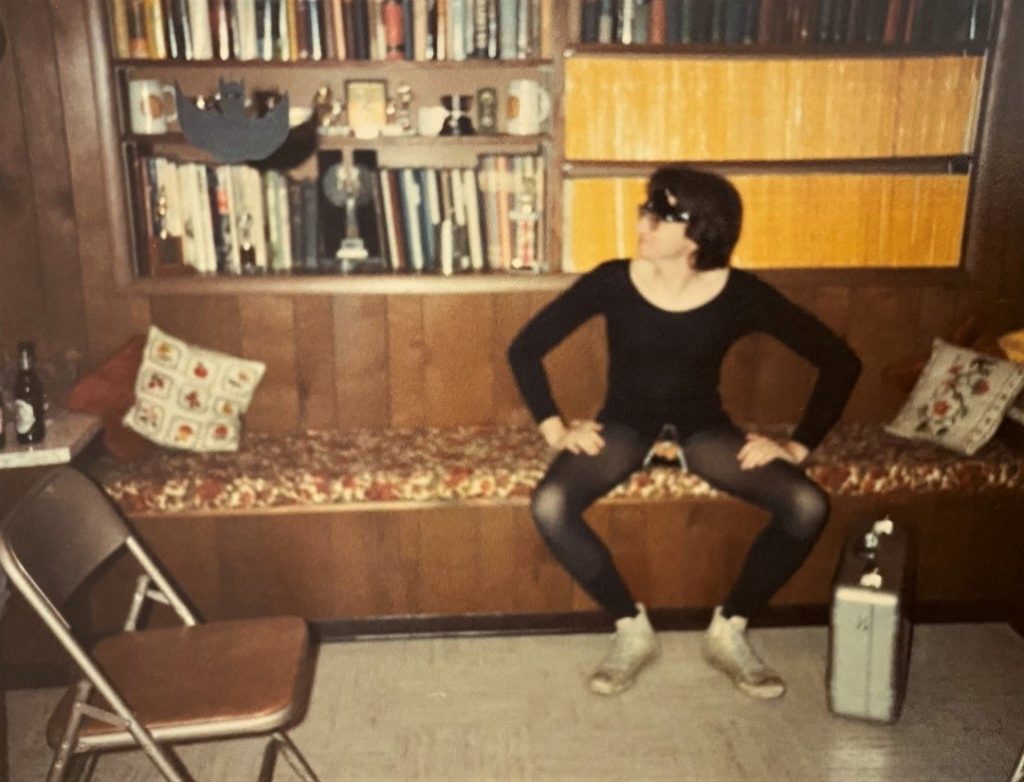 There is one more part to this Halloween in the multiverse story. I showed the photo of Chris the Invisible Man and the Beer Bottle Ballerina to a friend here in Asheville, who I have known only for 6 months. Sarah looked at the photo, looked at me, and said, "I've seen this photo before." At first I tried to explain to her that this was impossible. The photo has been in my photo album in a box in a closet since it was taken 39 years ago. If not for this writing class I am taking, it would have remained there for all eternity. Then I realized that it's not that she has seen the photo. She must have been there when I took the photos. The Multiverse strikes again! In 1984, I wasn't even able to speak with her or point my camera in her direction before she was transported through space and time to her next destination. But in 2023 the Multiverse has whirled us around, spit us out, and brought us together once again. Think about it, is there a better location than Asheville for all the trajectories of the Multiverse to be crisscrossing? I cannot wait for future encounters with strangers I have known across the Multiverse. I think I will start taking photos at the Friday Night Drum Circle.
Note from Cheryl: If you are a fan of the Multiverse, you'll find a couple of quotes about it in Quote of the Week. Click the menu above,