""""""""""""""""""""""""""""""""""""""""`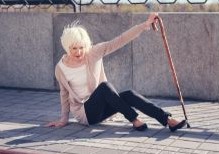 Are you familiar with that little wobble that sent you down onto your back after the dog plowed into the back of your knees in the yard? No? How about the one when you were hiking up in the mountains and your foot caught a root–maybe you thankfully fell on your knees first before you did a somersault down the hill. Or perhaps there's the one when you had to get off the road in order to keep from being run over by not one, but two cars, facing off against one another in the street and your shoes caught some acorns on that tiny hill in your neighbor's yard, which sent you treacherously skiing back down toward the road, so you dropped to the ground to avoid certain death? It's enough to keep one inside, where it's safe. Or is it? Repeat that last sentence with Keith Morrison's voice in your head.
I've been doing some work for Land of Sky Regional Council's Healthy Aging Programs lately, and my participation has brought back these lovely memories. The classes are part of the fall prevention initiatives meant to keep aging adults from taking the tumble and hurting themselves. For some reason, they asked me to teach both tai chi and A Matter of Balance. Maybe they thought the students would be able to relate to my tendency to hug the earth in a myriad of ways or it might have been that I was a willing and able volunteer. Either way, I have been thoroughly enjoying myself.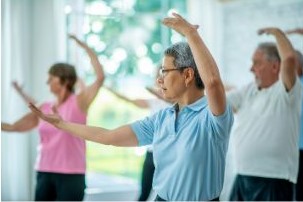 Tai chi was the easy one. After having participated in the free classes for 40 weeks, I signed up to teach the program for Arthritis and Fall Prevention in 2019. A two-day certification process followed, and then I was thrust into my first class with a more experienced teacher. Since I'd had 20+ years' experience teaching yoga, the transition to tai chi was not too difficult. Having a more experienced teacher with me, as we co-taught, was advantageous as well. Then A Matter of Balance popped up for my consideration.
With my years as a yoga instructor and as a PTA, I considered myself an ideal candidate…until I took the A Matter of Balance training. It seemed, from the training, there would be a lot of talking required–by me. While I'm not adverse to chatting, standing in front of a group of people to lecture felt a bit daunting. It felt more professorial than fitness instructor-ish. I had a big notebook, with a lot of words in it to guide me. If I had known about the prattling nature of the program, I might not have put my hand up when called upon to lead a class. But a promise is a promise and, as I had a co-teacher in my court, we set up to divide the speechifying between us. It was her first class as well.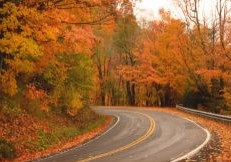 Once given the location of the community center where the class was to be held, I balked. It was not on the main road of a nearby town, as I had thought, but out. Out. What seemed to my urbanized nature–way out there. I asked my husband to drive me there so that I would be somewhat familiar with the path to the center once the classes started. When we turned up a narrow, winding, hilly road, my first response to the setting was, "Who would build a community center way out here?" Well, of course, the people who live way out there. From the bulk of my driving days in a big city, I'm used to wide, multi-laned roads, lined up on a grid of east/west and north/south routes. Truthfully, there are few of these in Asheville, but at least there are intersections, stop signs and commercial enterprises to guide my way toward my destination. Once off the main road, the route was rambling with a mixture of nice houses and shacks with rusting car bodies. I feared I'd run into a deer or a cow or some other wild beast out for a stroll along the only open path.
After I drove myself to the location for the first class, my rural anxiety on that twisty road eased a bit, though I still slowed to a crawl on those tight curves. The only cows I saw were safely ensconced within fenced pastures. The community center itself was easily found as it was right next to the street with a gravel driveway that led to a small parking lot in back. I was told overflow parking was on the grass beside the cow pasture. The people who greeted me were friendly and helpful.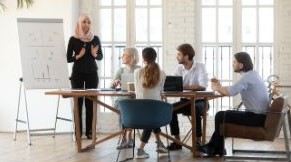 We had 10 names on our roster of signed-up participants. It was a give and take kind of class. We said stuff, they said stuff…or were supposed to according to our training. The bulk of the message in this first class was to dispel myths about falling and to get people talking about fears and concerns in the realm of probability of meeting the ground. Talking was not exactly forthcoming as everyone seemed eager to get to the exercises which were meant to beef us up and keep us flexible in order to avoid falling down. Alas, we would not get to instruct these moves until the third class.
So, what takes place in a class that stretches for 2 hours per week times 8 weeks? How much talking would I have to do when the exercise portion lasts only 25 minutes? We had one of those big pads of paper on which we were meant to write the words issuing from the mouths of our class participants. If only we could get words issuing from the mouths of our class participants. At first, most people were not forthcoming with their ideas, insights, commentary–even after we recited the curriculum, which was written to inspire such. This meant more discourse was required of the instructors.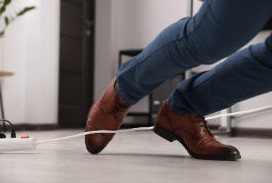 After a couple classes, our students opened up a bit to discuss negative thinking patterns, how to problem solve regarding changing risky habits (don't drink alcohol at lunchtime) and making the home safer (remove the extension cord that runs through the middle of the living room). My contribution to that last was get rid of your dog. I left that one in the classroom, of course, since I knew it would not be popular at home. But the truth is, over the years, dogs have had a way of making me fall over.
When we finally got to the exercises, I had to have my instructor manual open on a chair next to me since I did not have the routine memorized. It was a bit awkward during the standing portion of the exercises as I had to lean over to read the instructions for performing the movements. For my next gig, I am going to memorize the routine just as I would for teaching tai chi. Or I'll write the exercises on one of those big sheets of paper meant for the problem-solving work and tape it to a wall where I can see it. Or I'll write them down on index cards which are easier to hide. That is, if I'm asked to teach another class. A new tai chi class, I've been promised, is coming my way in 2024. Oh, the possibilities.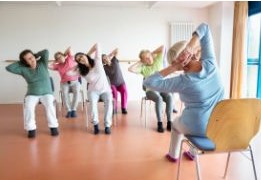 As the weeks passed, we learned how to be assertive (and less stubborn) asking for help when it was needed and was prudent in the endeavor of keeping ourselves upright. We took surveys of our fall-risk behaviors and the horror-worthy conditions of our homes. We shared our falling down stories and applied what we'd learned to avoid the risks we could control. We filled out action plans and upped the repetitions of our exercises along with vowing to do them at least three times per week (every day was good too). We discussed the ways we could do most things that we wanted to do if we minimized our risks and maximized body strength and flexibility. And maybe learned how to take an Uber when meeting friends downtown.
We ended the course with a guest speaker, who took the heat off us instructors as she spoke for a solid hour. I learned how to put my medical and emergency contact's information on my phone, bypassing password entry. Our speaker demonstrated, via my co-instructor, when and how to safely get up from a fall in the home. We reviewed how to minimalize our chances of falling and all of the reasons why we don't have to just sit at home because we might fall down out in the wild. Our group was fantastic at participating in the dialog.
We presented certifications of completion to our class, just like at a graduation ceremony. Each and every one of the participants made teaching my first A Matter of Balance class a success. I drove back down that twisty, winding country road with the confidence that I had made a difference in their lives. And my own. I made it clear to the director that I would not come back until winter is over–no way I'm driving on that roller coaster in the snow. After a dinner of left overs, my husband and I took the dog out for a walk in the neighborhood.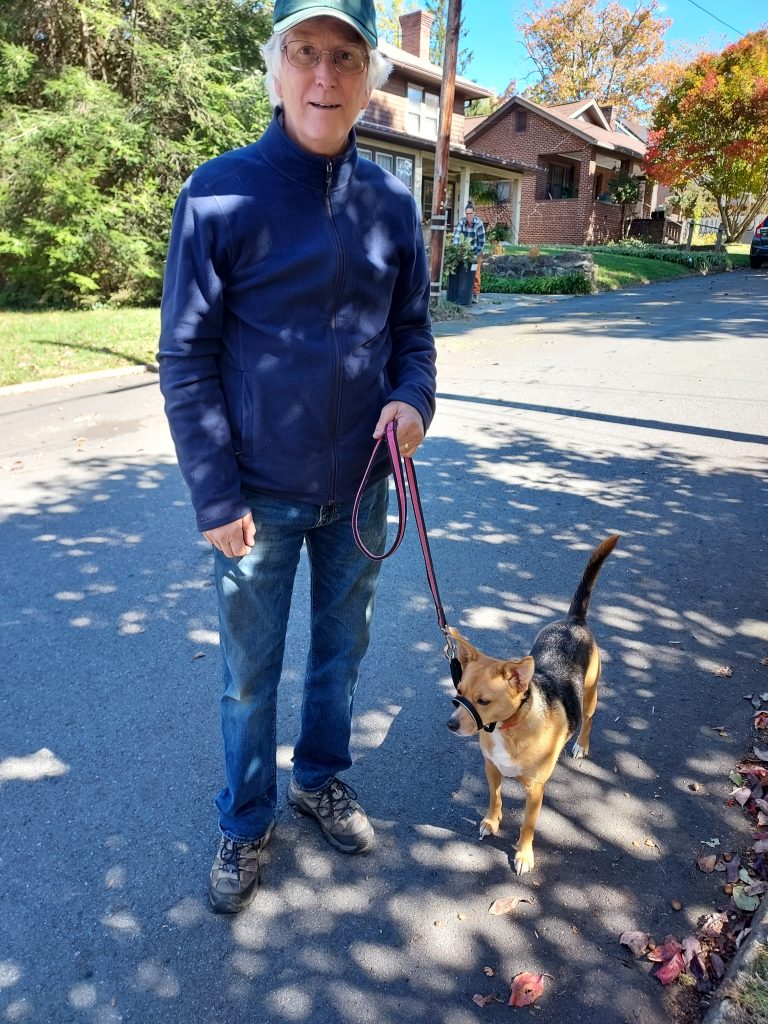 As I strolled down one street in the fading daylight, two motorists converged on a narrow road in my neighborhood–each determined to keep driving their vehicle without yielding. I saw the danger to myself and hopped up on the closest yard. It had a small hill. When I turned to see which car would give way to the other, my feet slid on some acorns! I immediately sat down on the lawn to keep from sliding into the road and becoming the only crash victim in this scenario. Does it count as a fall? Professionals will most likely say yes, but I used my recently-acquired knowledge to avoid disaster by choosing the bend-your-knees-and-drop-your-butt method to protect all my body parts from severe damage and that counts for something like fall prevention, even if I did say "ouch." Now I can't wait to tell this story in my next class.
Stay upright,
Cheryl